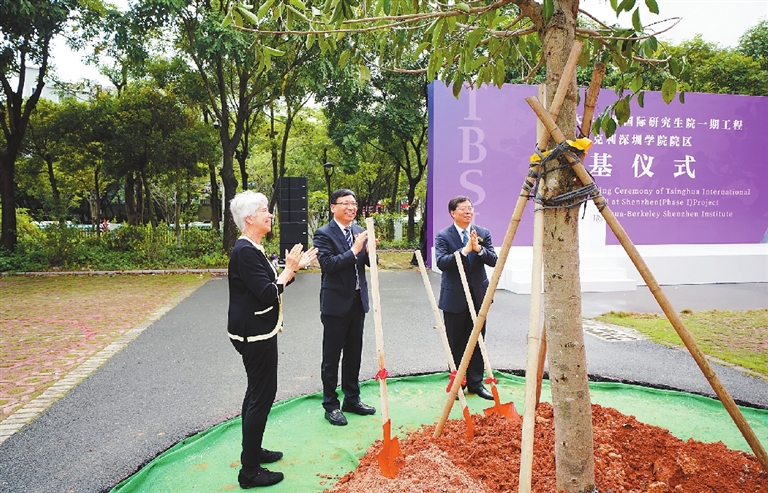 Zhang Qian
zhqcindy@163.com
THE Phase I project of the Tsinghua University Shenzhen International Graduate School was initiated yesterday morning in Xili in Nanshan District. The campus, to be completed in 2021, will provide space mainly for the Tsinghua-Berkeley Shenzhen Institute (TBSI).
Shenzhen Mayor Chen Rugui, president of Tsinghua University Qiu Yong, and chancellor of University of California, Berkeley (UC, Berkeley) Carol Christ attended the groundbreaking ceremony yesterday and together planted a tree to commemorate the project's inauguration.
The new campus is located next to the gymnasium in Xili University Town. Covering an area of about 2.3 hectares and with a construction budget of 1.26 billion yuan (US$198 million), the campus will have about 156,000 square meters of floor space for research laboratories, classrooms, and areas for collaboration with industry.
The project is expected to enter its formal construction stage by mid-2018 and be put into use in 2021. Upon completion, the project will become a showcase for the construction of an innovative international urban campus in Shenzhen.
So far, TBSI has constructed about 19,200 square meters of space for teaching and laboratories, and renovated about 1,900 square meters of various types of living spaces. In 2017, the laboratories of i-Park campus became fully operational.
You Zheng, vice president of Tsinghua University, said that the initial goal of setting up a joint institute is to develop more cooperation with world-class universities around the world to cultivate graduate students and collaborate on scientific projects.
"Secondly, I think the institute can enhance innovative development. As we all know, UC, Berkeley has cultivated many Nobel Prize laureates and has enjoyed fame for its great number of innovations, so we think when China's best university meets with other first-class universities around the world, there will be more innovation," said You.
The vice president revealed that Tsinghua University might initiate more cooperative projects with world-renowned universities as well as China's top research institutes in the future.
Christ said that cooperative projects focus on three major aspects.
"There are degree projects for undergraduates and graduates, a research program on five platforms, and technology transfer that will enrich the city of Shenzhen. The target is to produce as much research that is important for Shenzhen's development as possible," said Christ.
TBSI was jointly established by Tsinghua University and UC, Berkeley with the support of the Shenzhen Municipal Government in 2015.
The institute aims to cultivate postgraduate and doctoral students.
It currently runs three key centers focusing on environmental science and new-energy technology, data science and information technology, and precision medicine and health care.