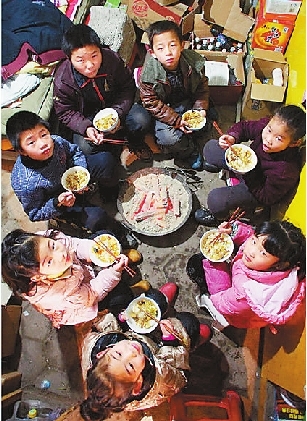 PREVIOUS media reports portrayed Li Lijuan as a businesswoman and investor who has spent the last 21 years of her life taking care of over 100 adopted children.
Li started out as an entrepreneur who went on to eventually purchase her own textile and clothing production company. Using the money she earned from that, she eventually make her way into the mining industry.
Since the 1980s, she made multiple investments within the coal mining industry in China and eventually purchased her own mine. This earned her millions of dollars, effectively ensuring that she could live a comfortable life.
In 1996 she adopted her first child and would go on to adopt many more. She took in dozens of orphans whose parents either died or abandoned them, and used her wealth to ensure they would have a better life.
Li told media the reason she's so determined to adopt abandoned children was her irresponsible ex-husband. He sold their son to a trafficker when the separated couple was in their 20s. Li finally got her son back by paying money to the trafficker.
"Most of the abandoned children have some health problems, but under my care, none of them die at a young age," Li once told a media outlet.
Various charities and other donors would help support Li and her massive family. Many of the orphans that she took in had health issues or birth defects, so Li also covered their large medical bills along the way, the reports said.
However in 2008, Li suffered a major setback. Her mine that was making the vast majority of her income was shut down due to the construction of urban developments. She had to rely solely on her garment business to provide for her orphans.
In 2011, Li underwent another setback: she was diagnosed with lymphoma. While she underwent treatment in the hospital for her cancer, she reportedly continued to use her money to help her family.
At the age of 46, Li found herself in debt, as she had spent her entire multi-million dollar fortune to help her adoptive children.
Despite being about US$317,000 in debt, she continued to give to her family. She sold off her properties and her personal goods to ensure that her family had access to food, housing and health care.
A few people tried to help Li by offering to adopt some of her orphans, but unfortunately they could not. As every child is registered under her name and none of them were officially declared "orphans," no other families could legally adopt them, even just to alleviate her burden.
However news reports said that Li had not seen her own biological son Xiaowen in more than 10 years. According to reports, her son was involved in an accident in 2004 that left him with a serious spinal injury. When he was sent to the hospital, his mother was not by his side, choosing to be with one of her adopted children that was also in hospital instead. This left Xiaowen feeling neglected, and he has avoided seeing his mother ever since. (SD-Agencies)