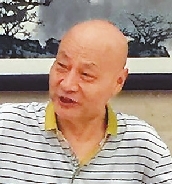 Debra Li
debra_lidan@163.com
A REALISTIC drama by award-winning playwright and director Huo Bingquan touched the heart of local audiences at Shenzhen Poly Theater over the past weekend.
"Tomorrow," first written in 1996, had several productions staged at the National Center for the Performing Arts and the Capital Theater in Beijing, as well as toured to other Chinese cities.
The show, inspired by the story of Fang Junming, a Hubei Province native paralyzed and bedridden for more than three decades due to a practical joke played on him by a boy in 1985, stays true to its original rendition.
With two portable hospital beds, a wheelchair and a folding chair being the only props, the show is set in a hospital ward shared by He Liang, a young hero injured during a fight against three armed robbers and Guan Yunnian, the middle-aged man paralyzed by a practical joke 18 years ago. It turns out He was the boy who faked drowning near the bank of a lake, and led Guan to plunge into the shallow waters to "rescue" him, only to hurt his spinal cord to the extent that no recovery was possible. Never knowing his practical joke caused the disaster, He, a sixth-grader then, fled the scene in the dark. The accident left Guan bedridden, and his wife walked away from him and their toddler daughter a year later. A hero widely covered in newspapers and TV reports, He struggles to come forth with a confession and apology to Guan in public.
Huo, a Shaanxi native better known for his TV and movie scripts like "Gua Sha Treatment" (2001), said he wrote the story after reading a short piece on a tabloid newspaper, which introduced the tragedy of Fang, who was then taken care of by his octogenarian mother, and called for citizens to help him. Not actually a "hero," since Fang didn't rescue anyone, nor was he injured on his job, he was not covered by any government subsidy or insurance.
Partly thanks to Huo's drama, which toured to Wuhan, capital of Hubei Province, and rekindled media interest in Fang's story, Fang was honored as one of CCTV's "10 people who moved China" in 2014, 29 years after the accident.
Starting casting in January, the show's performers are all from Shenzhen, with the male and female leads being drama degree holders from Shenzhen University.
"I always think that the script is the soul of drama," Huo said. "Celebrities can be a distraction on the drama stage. If a show's box office is largely supported by fans of one or two idols, it may not be a good thing."
The director also criticized overly fancy stage sets. "Some huge-production shows use truckloads of props, creating dazzling visual effects, which in reality cannot remedy the lack of a good story."
An advocate of positive energy and high moral standing such as being honest, Huo said his show is not propaganda. "Basically, it's a story of human interest, and audiences can judge for themselves that the characters are real and the story is honest."
A traditionalist, Huo is praised by Chinese dramatist and scholar Ma Ye as the "best contemporary storyteller."
The show, playing Friday and Saturday nights, was produced by Shenzhen Poly Theater. Zhao Jiping, known for soundtracks of movies and TV series such as "Three Kingdoms" (2010), provided the scores for the drama.