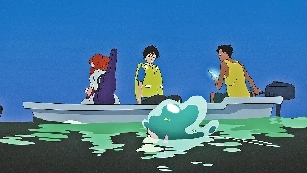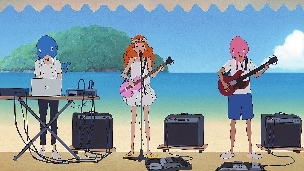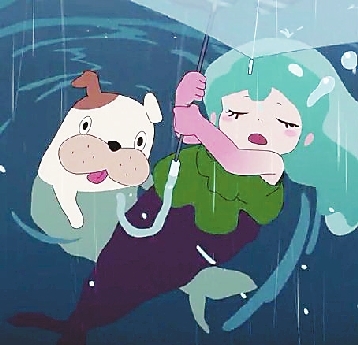 Winner of the Grand Prize at the prestigious Annecy Animation Festival and an official selection of Sundance 2018, "Lu Over the Wall" is a 2017 Japanese animated fantasy film directed by Masaaki Yuasa. The story bears more than a passing resemblance* to Hayao Miyazaki's "Ponyo."
Hinashi is a small fishing village, where most things revolve around the sea. A tannoy* shouts out adverts for fish processing training and the kids have to take part in an open water race.
Fourteen-year-old Kai (Shota Shimoda) moves with his father from Tokyo to Hinashi to live with his grandfather following his parents' divorce. Kai is unable to give words to his complex feelings about his parents, so he passes his middle school life unhappily. His one joy is uploading his musical compositions to the Internet. Kai's outsider persona makes him attractive to new classmates Yuuho (Minako Kotobuki) and Kuniko (Soma Saito). When they discover he's also got an ear for a good tune, they become determined* to include him in their band.
It turns out they're not the only ones who like a melody*, as Kai discovers when one night a wall of water arrives in his bedroom containing Lu (Kanon Tani), a young mermaid, who just wants to be friends. As Kai, Yuuho and Kuniko warm up to the fish girl, who becomes more human-like the more she listens to human music, they also face the problem posed by the fact that the village people are scared of the mermaid's abilities amid rumors of them eating people. As they recruit* Lu into their band, it soon becomes clear that problems lie ahead.
When the humans exploit* Lu and misunderstand her, her father's rage causes a natural disaster that only Kai, with his understanding of the merfolk, can avert*.
There's no doubt that youngsters will enjoy the trippy* visuals of this film. Bad moods are never more than fleeting and smiles spread from ear to ear — although whether the youngest audience members will have the staying power for the almost two-hour running time is another question. Yuasa's animation has a flowing style that complements the ever-present water and his use of strong colors in flashback works well. (SD-Agencies)