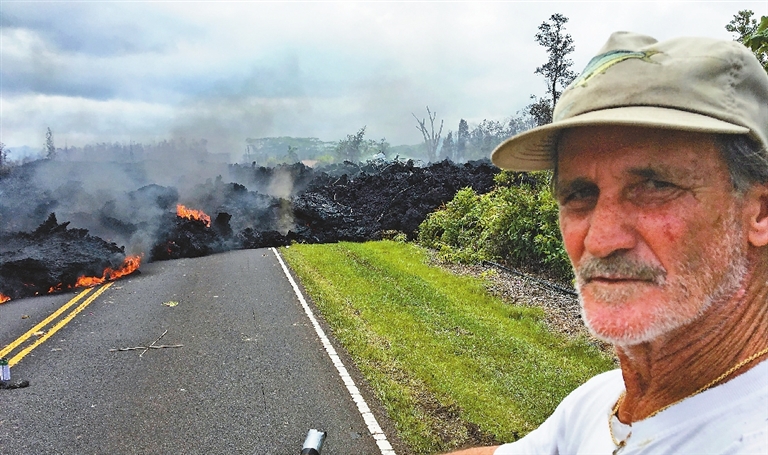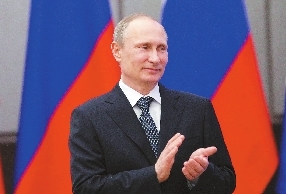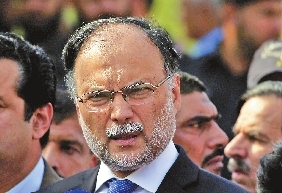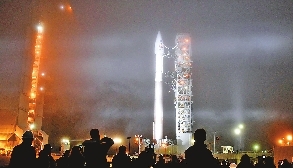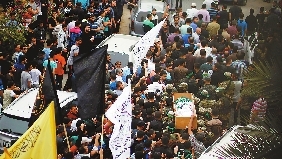 Hawaii residents flee volcanic threats
A resident stands next to lava* advancing along a street near a fissure* in Leilani Estates on Kilauea Volcano's lower East Rift Zone, Hawaii, the United States, on Saturday. Over 1,700 residents have been ordered to evacuate* their homes after Kilauea Volcano erupted on the Big Island. The eruption also triggered the state's worst earthquake in decades.SD-Agencies
Putin sworn in for 4th term
Vladimir Putin took the oath of office for his fourth term as Russian president on Monday, promising to pursue an economic agenda that would boost living standards across the country.
Putin said improving Russia's economy following a recession* partly linked to international sanctions* would be a primary goal of his next six-year term.
"Now, we must use all existing possibilities, first of all for resolving internal urgent tasks of development, for economic and technological breakthroughs, for raising competitiveness in those spheres that determine the future," he said.
Interior minister shot by gunman in Pakistan
Pakistani Interior Minister Ahsan Iqbal was wounded on Sunday in an apparent assassination* attempt by a gunman linked to a new ultra-religious Muslim party — an incident likely to raise tensions before an election expected in late July.
Iqbal, 59, a senior member of the ruling Pakistan Muslim League-Nawaz (PML-N) party and a staunch* ally of ousted Premier Nawaz Sharif, was shot as he was leaving a constituency meeting.
An initial report on the shooting said the gunman had been arrested and "showed his affiliation" to Tehreek-e-Labaik.
NASA launches InSight spacecraft to Mars
A robotic geologist* armed with a hammer and quake monitor rocketed toward Mars on Saturday, aiming to land on the red planet and explore its mysterious insides.
In a twist, NASA launched the Mars InSight lander from California rather than Florida's Cape Canaveral. It was the first interplanetary* mission ever to depart from the West Coast, drawing pre-dawn crowds to fog-socked Vandenberg Air Force Base.
Gaza blast kills six Hamas gunmen
An explosion in Gaza killed six Hamas gunmen on Saturday, the group said. It blamed the incident on Israel, which declined to comment.
A statement from the Palestinian Islamist group's armed wing called the incident a "deplorable* Zionist* crime" perpetrated* against its fighters. "A deplorable crime took place against our Mujahideen in the area of Zawayda in central Gaza Strip," it said.
Buffett says world depends on US, China for growth
U.S. billionaire investor Warren Buffett said on Saturday that the world depends on the United States and China for progress, dismissing concerns that the two countries' trade tensions could potentially escalate into a trade war.
Buffett, chairman and CEO of Berkshire Hathaway, made the remarks in response to a Chinese investor's question about U.S.-China trade relations at the Berkshire Hathaway's annual shareholders meeting in Omaha, the United States. (SD-Agencies)