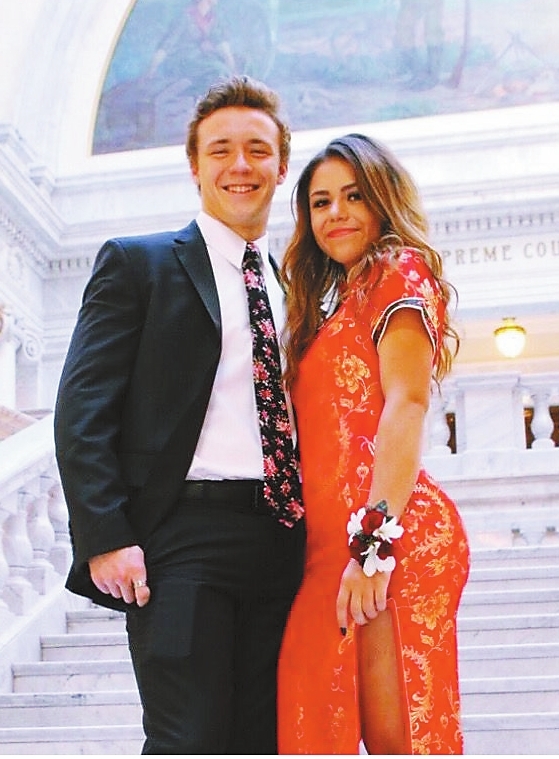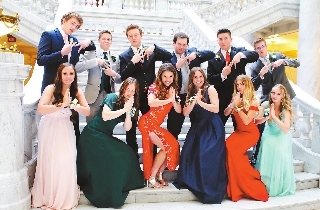 有人赞,有人骂,穿旗袍赴高中舞会的美国女孩引发 "文化挪用"争议,在中国却获网友支持
A U.S. teenager criticized on social media for wearing a traditional Chinese dress to her high school prom defended her decision and has won support from netizens in China.
Keziah Daum, 18, a high school senior in Utah, faced backlash from thousands online, some of whom accused her of cultural appropriation after she posted an album of four prom pictures to Twitter on April 22 that featured her wearing a traditional qipao, or cheongsam, a body-hugging one-piece Chinese dress for women.
"I have been overwhelmed by the many people from China who have both reached out to me and have posted to social media their viewpoints. I thank them for the moral support regarding my decision to wear a qipao," Daum told China Daily in an email last week. "I sincerely thank the outpouring of support I have received from the people of China."
Daum stood by her choice to wear the dress, which was red and orange with gold-and-black embroidery. She said on Twitter that she will not take down the original post.
"The gown caught my eye at first sight because of its beauty," she said. "I was also so happy to find a dress with a modest neckline. It is very hard to find dresses here for prom which cover a women's neckline."
The tight-fitting qipao was first created in Shanghai in the 1920s. The traditional dress has regained popularity and become a symbol of traditional Chinese culture.
"I have learned a lot about the history of the dress after I bought it and since the online attention," she said. "If what I read is true about its role in helping with female empowerment, then the gown sends a great message to young women everywhere. It is a wonderful message, regardless of which culture it comes from."
'Cultural appreciation'
In 10 days since it was posted, Daum's original post had been retweeted nearly 6,500 times and gotten 96,000 likes. It has received 14,000 comments, but many of those were angry and negative.
One Twitter user, Jeremy Lam, had written, "This is my culture, not your ... prom dress."
That tweet generated more than 41,000 retweets, nearly 180,000 likes and thousands of comments on the social media platform.
Daum herself has been adding thousands of Twitter followers since the prom, and now has nearly 20,000.
In China, most Internet commenters appreciated and supported Daum's wardrobe decision.
"The dress is so gorgeous, and the girl looks great in it," wrote a user named Xiaoxiongnaicha on Weibo, the Chinese equivalent of Twitter. "As a Chinese, we are very proud and delighted to share our cultural fashion with anyone around the world. We all support her."
"It is not cultural appropriation, it's cultural appreciation," wrote Weibo user Wuyiya. "Can anyone living in the United States let the girl know that many Chinese people think she looks stunning in this beautiful dress?"
"Culture has no borders," another user wrote. "There is no problem, as long as there is no malice or deliberate maligning. Chinese cultural treasures are worth spreading all over the world."
(China Daily)