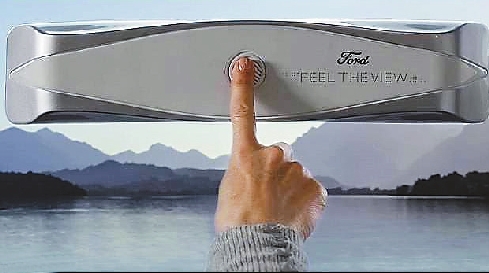 福特智能车窗让盲人"看见"路过的风景
Ford has released a prototype* technology that will allow the visually impaired* to imagine passing scenery by touching windows.
"Feel the View" attaches a camera to the car window and takes photos of the exterior landscape. The pictures are then turned into high-contrast monochrome* that are then reproduced on the glass using special LED lights.
The user can touch the image and different shades of gray vibrate with a range of 255 intensities*. This allows the passenger to touch the scene and rebuild the landscape in their minds.
Ford developed the device in conjunction with Aedo, a local Italian start-up* that specializes in devices for the visually impaired.
"We seek to make people's lives better and this was a fantastic opportunity to help blind passengers experience a great aspect of driving," said Ford Italy spokesman Marco Alu Saffi. "The technology is advanced, but the concept is simple and could turn journeys into truly memorable ones."
The technology has an image recognition system that recognizes passing landscapes and speaks out loud, so passengers know if they're passing a mountain, a forest or an ocean.
"We developed a new language to give people who cannot see a landscape the chance to feel it," the company said. As of now, Ford has no plans to sell the device.(SD-Agencies)