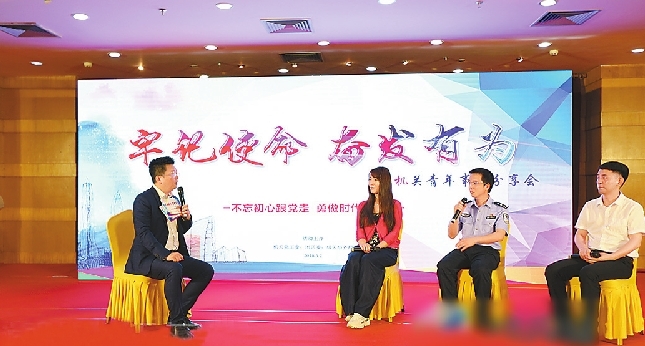 DURING a story-sharing session to mark China's Youth Day on May 4, three young people from Futian District shared their stories to motivate their peers to devote themselves to society and make contributions to the country. Nearly 200 people, including members of the Communist Youth League of China, policemen and middle school students, attended the event.
The three storytellers lead ordinary lives, yet they have extraordinary stories. Zhang Cunhua, from the Government Offices Administration of Futian District, donated marrow to save a stranger's life. Luo Mingxing, from Shatou Police Station, shared how he had carried a burning gas tank that could have exploded any minute outside a home, to ensure people's safety. Liu Di, secretary of the Meilin Middle School Committee of the Communist Youth League of China, set an example for other young people by organizing innovative activities to enrich the lives of members of the league.
A student surnamed Zhang from Huanggang Middle School said that she was deeply moved by their stories and that she would become a woman who loves the country and her job and is willing to devote herself to society.
He Wen, director of the CPC Work Committee of Futian District Government, said youths are the new force for building the new era. He also called on young people to learn from these three and cultivate a down-to-earth spirit to fulfill their ambitions and to dedicate themselves to Futian's development. (Yang Mei)