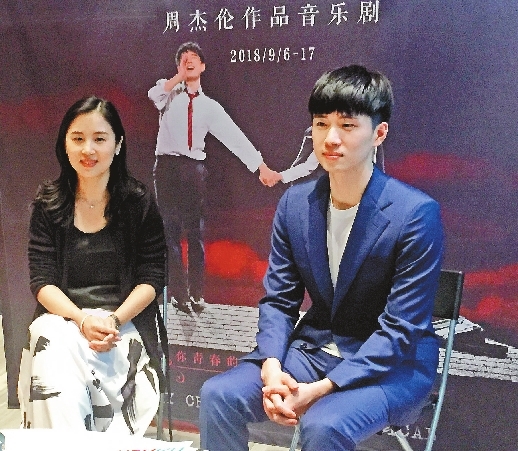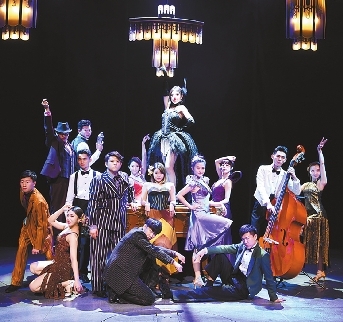 Debra Li
debra_lidan@163.com
THE biggest challenge jukebox musicals often face is finding the right songs in an artists' repertoire to fit a decent storyline. In the case of "The Secret," that challenge is met skillfully by mining the nostalgia of songs past and an already successful movie.
Uniting a dream team of creatives from Broadway and China, the show is a high school musical with a time-travel twist.
Based off Taiwanese megastar Jay Chou's award-winning 2007 film of the same name, "The Secret" follows high school students Ye Xianglun (Cao Yang) and Lu Xiaoyu as they meet, fall in love and embark on an epic romance that will span time and space, using Chou's own songs written by him.
The opening show of the Greater Bay Performing Art Festival organized by Shenzhen Poly Theater, the musical will stage 10 shows between Sept. 7 and 16. The musical, which premiered during the Christmas holiday in Beijing in 2016, performed more than 50 shows last year and has toured to cities like Shanghai and Singapore. This is the first time it will come to Shenzhen.
The musical features more than 20 of well-known Jay Chou tunes that fans will find themselves humming to, including "Fine Day," "Simple Love," "Rice Field" and "Rooftop."
Well-known names from the Broadway were involved in the making of this musical, including Tony award-winning director John Rando, scriptwriter Marc Acito and set designer Beowulf Boritt.
Chou himself also signed on as a producer.
Although the storyline doesn't fall too far from the original film, with different parts fleshed out, it does have an unexpected ending. Apart from the Broadway-esque mass numbers of people dancing in unison that can be a bit of a distraction for the Chinese audiences, the show delivers its messages loud and clear: the importance of family, friends and love in making miracles happen.
Cao, born in 1991, is a musical degree holder who graduated from Shanghai Conservatory of Music.
The actor, who calls himself a huge fan of Chou, said he had felt thrilled being cast in the show. "We perform the same show for different audiences every night, and we try to be at our best to make every night unforgettable for the viewers," he said.
Cao said he largely drew from the movie for his character and sings the numbers in a natural way that pop fans will find pleasing to the ear.
"We've been honing the show continuously and will improvise city-relevant details for the amusement of local audiences," said co-producer Ivy Zhong, who has the ambition to make the show a classic that will run for decades more.
The Greater Bay fest, running between September and January 2019, will stage 23 programs ranging from dramas, musicals, operas, dances and concerts.