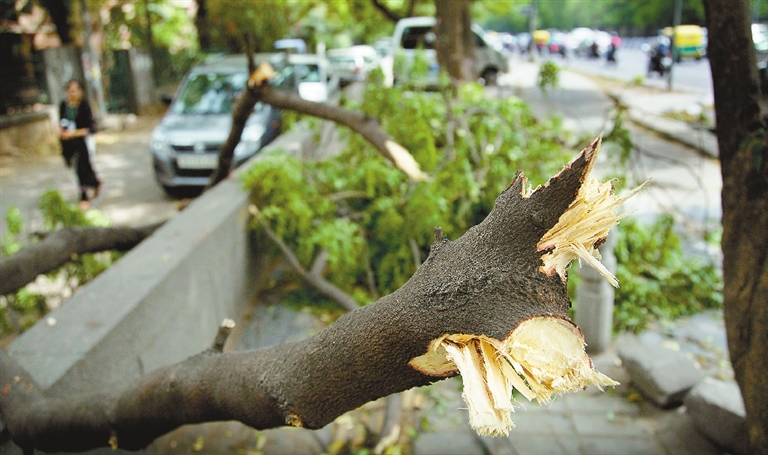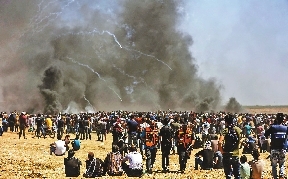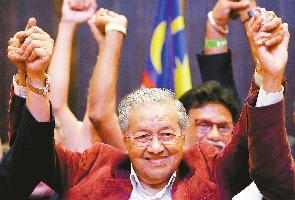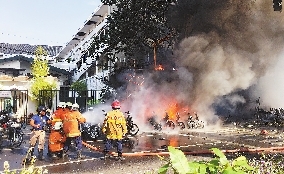 Unusually severe Indian weather kills dozens
Pedestrians walk past an uprooted and fractured tree from Sunday's sudden storm in New Delhi, India, on Monday. At least 66 people were killed as unusually powerful dust storms, torrential rain and lightning battered large parts of India, local officials said. Storms are common at this time of the year, but the severity of the weather this year, and the human cost, have been unusual.SD-Agencies
Protests cloud US Embassy opening in Jerusalem
Thousands of Palestinian protesters converged* along the border with Israel on Monday, drawing Israeli fire that killed at least 16 people in the bloodiest day of weeks of demonstrations and casting a cloud over Israel's festive inauguration* of the new U.S. Embassy in contested Jerusalem.
By midafternoon, at least 16 Palestinians, including a 14-year-old boy, were killed while over 500 were wounded by Israeli fire, Palestinian health officials said.
The relocation of the embassy from Tel Aviv has infuriated the Palestinians, who seek east Jerusalem as a future capital.
Pompeo outlines plans to help DPRK
U.S. Secretary of State Mike Pompeo on Sunday outlined the United States' plans to help the development of the Democratic People's Republic of Korea (DPRK) if the country agrees to complete denuclearization*.
Pompeo said on Friday that the United States and South Korea are ready to help the DPRK achieve prosperity if it takes "bold" action in denuclearization.
In an interview with CBS's Face the Nation on Sunday, Pompeo elaborated on the plan, which deals with economic and security issues.
Mahathir Mohamad, 92, leads Malaysia again
Mahathir Mohamad, who ruled Malaysia with an iron fist from 1981 to 2003, has become the world's oldest elected leader.
The 92-year-old's alliance of four parties unexpectedly trounced the Barisan Nasional (BN) coalition of Prime Minister Najib Razak, who was once Mahathir's protege* but became his most bitter rival.
Mahathir vowed on Monday to investigate faults that may have been committed by the government toppled in the general election.
Suicide bombers hit Indonesian churches
A family of six launched suicide attacks on Christians attending Sunday services at three churches in Indonesia's second-largest city of Surabaya, killing at least 13 people and wounding 40, officials said on Sunday.
Indonesia, the world's largest Muslim-majority country, has seen a recent resurgence* in homegrown militancy and police said the family who carried out the attacks were among 500 Islamic State sympathizers who had returned from Syria.
Cambodia makes 1st arrest for insulting monarchy
A Cambodian school director has become the first person to be arrested on charges of insulting the monarchy* after posting comments on Facebook critical of the authoritarian* government.
The law protecting the monarchy was passed in February. Critics say it further erodes freedom of speech and political activities, already under stress from Prime Minister Hun Sen's government.(SD-Agencies)