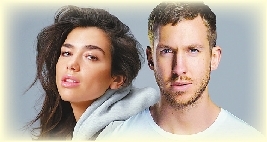 One Kiss
Calvin Harris & Dua Lipa
One kiss is all it takes
Fallin' in love with me
Possibilities
I look like all you need
Let me take the night, I love real easy
And I know that you'll still wanna see me
On the Sunday morning, music real loud
Let me love you while the moon is still out
Something in you
Lit up heaven in me
The feeling won't let me sleep
'Cause I'm lost in the way you move, the way you feel
One kiss is all it takes
Fallin' in love with me
Possibilities
I look like all you need
One kiss is all it takes
Fallin' in love with me
Possibilities
I look like all you need
One
One
Darling
One
One
Darling
I just want to feel your skin on mine
Feel your eyes do the exploring
Passion in the message when you smile
Take my time
It's something in you
Lit up heaven in me
The feeling won't let me sleep
'Cause I'm lost in the way you move, the way you feel
One kiss is all it takes
Fallin' in love with me
Possibilities
I look like all you need
...
See wonderland in your eyes
Might need your company tonight
Something in you
Lit up heaven in me
The feeling won't let me sleep
'Cause I'm lost in the way you move, the way you feel
...
Review
Calvin Harris released this single last month, featuring the alluring vocals of British singer Dua Lipa. It is upbeat, fast paced and incredibly catchy. Dua Lipa's deep vocals are not quite typical for this type of track, but it surprisingly works.