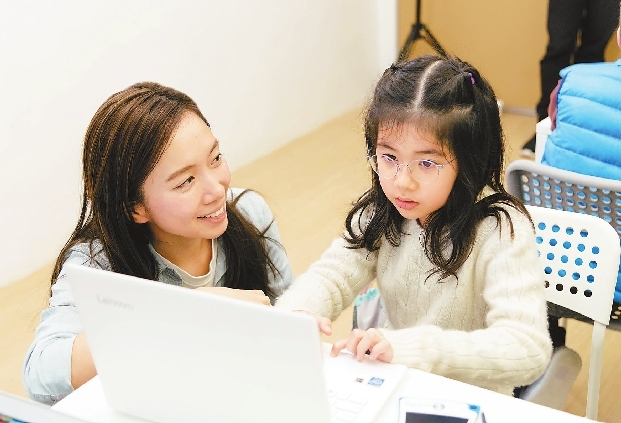 儿童应该学习编程吗?
Cao Zhen
caozhen0806@126.com
Mark Zuckerberg once said, "In 15 years, we'll be teaching programming just like reading and writing." The idea that mastering code is as essential to a successful start in life as literacy is starting to take hold of Chinese parents.
Coding classes and workshops have sprung up in every district of Shenzhen in recent years. Supporters argue that learning programming skills will benefit children by teaching them logical thinking, whatever their ultimate career may be, almost akin to the logic in favor of teaching children to play a musical instrument or learn a foreign language.
"There are a couple of core skills parents want their children to learn at young age, and coding falls on the logical thinking side. Coding can train your mind. Learning to code requires mastery of a problem-solving skill known as computational thinking," said Michelle Sun, CEO and co-founder of Hong Kong-based First Code Academy, which will start running coding camps taught in English in Shenzhen from June to August.
Sun said that in her Hong Kong classroom, a girl named Sarah began to learn coding at 8, and after studying for four years, the student said she wanted to be a fashion designer in the future and use coding to program lights to respond to the motion of models. "Even if you won't become a programmer, or you choose to become a doctor or an account, coding will enhance your career."
Currently, there are a variety of tools or coding languages available for children, such as Scratch, Minecraft and Python. "We suggest children reach proficiency in one coding language first," said Sun. "Parents should focus on building a foundation so that children can understand basic computational concepts. Once they master one, they can then pick up another coding language quickly, so it doesn't matter how many languages they learn in the beginning. They actually learn computational thinking concepts through these languages."
Holding a BA in economics from the University of Chicago and beginning her career at Goldman Sachs as an equity analyst, Sun said the biggest shock at her first class abroad was that her U.S. classmates were much braver when it came to presenting their ideas at classes. Moreover, they believed that for some questions "there are no right or wrong answers."
Before founding First Code Academy, Sun also had a failed entrepreneurship experience that she once was reluctant to mention. "After I took a trip to Silicon Valley and met people running startups there, I found their concept of failure was different. In Asian culture, failure is a disgrace but in Silicon Valley, it's something people celebrate because they admire you did something without being sure of the outcome," said Sun.
This experience changed Sun's perspective on taking risk, and she encourages her students to be comfortable with failure. "There's no perfect software. The whole thing about learning to code is to think with the mindset of a creator and sense that there's no right answer."