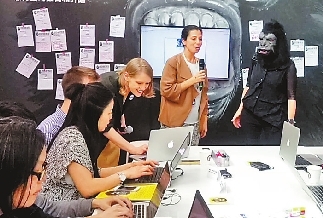 Jesse Cancelmo
English teacher at Southern University of Science and Technology in Shenzhen
Readers who came to Art Basel in Hong Kong this past March 30 may have glanced at the dazzling alternative artwork, or perhaps even bought a few pieces for their avant-garde collections in their stately houses. A few attendees, however, learned how to record knowledge about a subject area often neglected by writers: women artists.
Many people rely on Wikipedia for everyday research and fact-checking, but few understand just how many hours of work and effort go into writing the articles and providing sources proving the content of said pieces.
A group of area residents learned firsthand how to create articles during the "Wikipedia Edit-a-Thon on Women in Art," in a booth at the Cultural Institutions' nonprofit section of Art Basel, hosted at the Hong Kong Convention and Exhibition Center. This edit-a-thon, in two sessions, was a collaboration between Asia Art Archive, M+ museum of visual culture and the Hong Kong Wikimedia User Group. It aligned with Art+Feminism, a global movement that recently received funding from the Wikimedia Foundation.
After the editing presentations took place, participants picked which topics they wished to create or expand upon and went to work. They received hands-on technical assistance from volunteers from the three host organizations, and while the main presentations were done in English, the volunteers gave the new editors crucial help in their native tongues.
Snacks and water were provided to give everyone a brain boost. In the booth, the edit-a-thon took place within an art installation by the Guerrilla Girls — a feminist art group founded in 1985 — that serves as a stage for examining the status of women in the Hong Kong art world. The event was a wild success, resulting in the creation of 14 articles in English, the expansion and revision of 26 English articles, and the translation of one article into Chinese, all about women artists from Asia.
The Hong Kong Wikimedia User Group was formed to represent editors living in Hong Kong and Macao, replacing an earlier defunct group. Its members hold meetups every month or two, ultimately aiming to create an official group recognized by the Wikimedia Foundation. Asia Art Archive, based in Hong Kong with satellite sites in New Delhi and New York, maintains collections of historical physical and digital archival materials relevant to recent art in Asia.
M+ is a museum of contemporary visual culture. It hosts art exhibitions and film screenings and is now gearing up for the completion of the museum building in the West Kowloon Cultural District.
When asked what lesson I learned from my experience as a volunteer and speaker at this event, it was the realization that the technically gifted don't have all of the keys to online knowledge. The computer savvy may understand video games, internet culture, and their pet topics, but many who lack computer skills nonetheless have deep understandings of rich, interesting, and culturally significant subject areas that need to be brought online. The geeks must help the non-geeks and together preserve knowledge in all subject areas for all people worldwide.