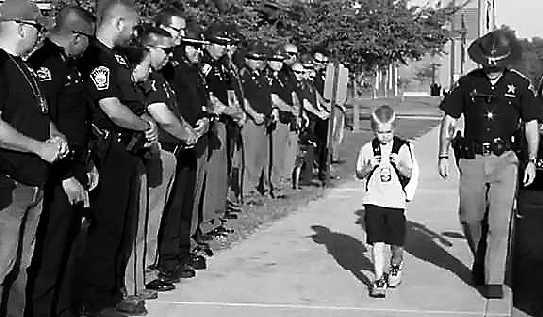 FIVE-YEAR-OLD Dakota Pitts has returned to school for the first time since his father was killed in the line of duty May 4.
But he didn't go back to his Indiana elementary school by himself Monday as 70 of his father's co-workers were there in uniform to escort him.
Touching video shows the officers lining the sidewalk in support of Dakota while he donned his father's badge and was given a SWAT shirt as he made his way to the door of Sullivan Elementary School.
His father Rob Pitts, a 16-year veteran with the force, was tragically killed May 4 in a shootout at the age of 45.
"Dakota asked his mom if one of his dad's friends could take him to school, so she kind of reached out to Rob's friends and family," said Les Ham, Terre Haute Police Department detective.
"He will definitely know that his dad was a hero. Blood doesn't always make family, and I think the blue family just went above and beyond," said Kelli Jones, Pitts' sister.
The officers gave Dakota gifts and told him they would always have his back.
Pitts also leaves behind another son and daughter.
Officer Pitts and his team approached an apartment complex May 4 where an armed murder suspect was barricaded inside.
Christopher Wolfe, 21, was suspected of shooting and killing a 26-year-old man at a home in Terre Haute.
A three-hour standoff ensued before Wolfe opened fire from the second floor of the apartment, fatally striking Pitts.
The officer was taken to Terre Haute Regional Hospital where he died.
Eventually a SWAT team entered the apartment and located the suspect, ending the standoff at 9:15 p.m.
Wolfe was also killed in the exchange of gunfire.
"Rob is deeply missed, but we are grateful for the time we had with him. Thank you for your continued prayers," Terre Haute police spokesman Ryan Adamson said Saturday.
"It is another tragic loss for the Wabash Valley and the Terre Haute Police Department," Sgt. Joe Watts of the Indiana State Police said.
Chief John Plasse held a news conference to announce Pitts' death.
"People are engaging law enforcement and we are losing our lives. He was a fine officer and he was going toward danger to help his fellow officers apprehend a homicide suspect," he said.
Governor Eric Holcomb tweeted his condolences to Pitts' family.
"The sorrow @FLJanetHolcomb & I feel for the family of Patrolman Rob Pitts, the Terre Haute Police Department & the Wabash Valley region is beyond words. I ask Hoosiers around the state to join me in honoring Patrolman Pitts' service & dedication," he said.
A vigil for the fallen officer was held May 6 at the Sullivan Indiana Courthouse.
He is the first Terre Haute officer to die on duty since July 11, 2011.
(SD-Agencies)