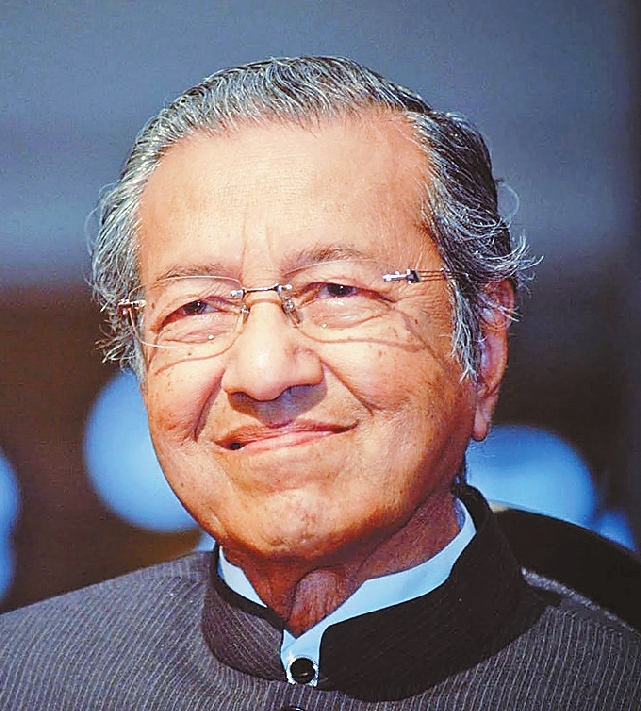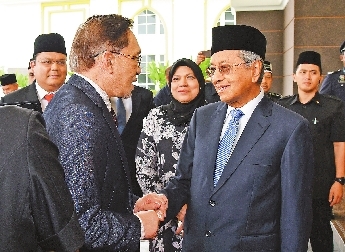 AT the age of 92, Mahathir Mohamad has become Malaysia's prime minister again.
He retired from the post in 2003 after 22 years at its helm, only to came out of retirement to correct what he called "the biggest mistake in my life" — the elevation of former Prime Minister Najib Razak to power.
He was a medical doctor by profession. Known as the father of Malaysia's modernization, he steered the country through the Asian crisis of 1998, turning it into what many would call an "economic tiger."
Having fallen out with Najib as well as the previous ruling United Malays National Organization (UMNO) party, he has led his long-time foes, the former opposition Pakatan Harapan coalition, into battle.
Prior to the election, he said he intended to be prime minister for two years, before handing the office over to the coalition's leader, Anwar Ibrahim, who was released from prison and granted a royal pardon Wednesday.
"I am 92 going on 93," Mahathir said in January. "I won't last long and I am prepared for that. But for as long as I can contribute, I will continue, and I will back Anwar if that is the wish of the party."
How Mahathir and Anwar will get along, and whether and when the prime minister will stand aside for the man who built his former opposition alliance is one of the biggest questions facing Malaysia.
Mahathir's political drive and combative spirit for what many view as the near-impossible task of toppling the ruling coalition is no surprise to Malaysians.
Mahathir joined UMNO at the age of 21 and ran a medical practice for seven years in his home state of Kedah before becoming a member of parliament in 1964.
In 1969 he lost his seat and was expelled from the party after writing an open letter attacking the then-Prime Minister Tunku Abdul Rahman.
He later wrote a controversial book entitled "The Malay Dilemma." In it, he argued that the country's Malay population had been marginalized, but also castigated them for apathetically accepting a second-class status.
It struck a chord with younger UMNO leaders and he was invited back into the party, re-elected to parliament in 1974, and appointed minister of education. Within four years he had become UMNO's deputy leader and, in 1981, he became prime minister.
Under his rule, Malaysia transformed into one of Asia's "economic tigers" of the 1990s — prestige projects such as the Petronas Twin Towers demonstrated the extent of his ambitions.
Mahathir's authoritarian but pragmatic policies won him popular support at home, but he was criticized for deploying the controversial security law known as the Internal Security Act. His critics said it permitted him to crack down on the media, activists, religious leaders and political opponents.
Most infamously, his deputy prime minister, Anwar, was sacked, accused of corruption and sodomy and later jailed on the latter charge, when he called for economic and political reforms in 1998.
Frequent barbed comments about the West also earned Mahathir a reputation abroad. Days before he resigned in October 2003, for example, he angered several foreign governments and Jewish groups by claiming a Jewish cabal "ruled the world."
He said he left his post "disappointed ... because I have achieved too little in my principal task of making my race a successful race, a race that is respected."
Even in retirement, he never really left the political arena.
He publicly criticized his successor Abdullah Badawi and, after lackluster election results for the ruling coalition in 2008, quit the party in what many saw as a way to pressure Abdullah to go.
That paved the way for Najib to come to power.
Mahathir's initial support for Najib changed, however, as accusations of corruption against him surfaced in regard to a heavily indebted state investment fund called 1Malaysia Development Berhad (1MDB).
U.S. justice officials said that between 2009 and 2015, more than US$3.5 billion from 1MDB was misappropriated by high-level officials of the board and associates.
In an interview with Al Jazeera's Mehdi Hassan in 2016, Mahathir said he decided to turn against Najib because he had "gone off track."
"He has done a lot of things, which are actually wrong. And as a result, he has put the country in a very bad position, economically, politically. He is also getting a bad name throughout the world. So he has to go," he said.
Commenting on Malaysia's future, Mahathir added, "If Najib is there, this country will go to the dogs."
He commanded enough loyalty from supporters within UMNO to press the case against Najib from within the party and government.
When they got nowhere, however, he, and several high-profile supporters, quit UMNO and crossed over to the opposition in 2016.
In January this year, he announced his intention to contest the election, at the age of 92.
Mahathir told CNN in January that standing in the election was a "job I have to do."
"I cannot accept this country being destroyed by selfish people who only think about themselves ... who steal money," he said.
On May 9, he won a historic victory, ousting his former allies after more than 60 years in power.
To the surprise of many, he has admitted he was wrong on many things and apologized for them — not least for sacking Anwar.
Mahathir has also acknowledged the suffering of Anwar and his family.
"I know how Anwar feels. It was during my administration that he was sent to [prison]. It is not easy for him to accept me and shake my hand," The Malaysia Insight quoted Mahathir as saying.
"And it's not just Anwar but his family as well who felt pressure when he was jailed. They suffered for 20 years."
Anwar, 70, was also once a protege of Mahathir, but they had a falling out in the late 1990s. Anwar's wife, Wan Azizah, endorsed Mahathir and served as his deputy in the coalition to oust Najib. She was one of the dozens of opposition candidates elected Wednesday.
Anwar thanked Mahathir on Wednesday for his help in getting him released and pardoned, the latter a critical step in allowing Anwar to return to politics.
"I and Mahathir have buried the hatchet already, it was a long time ago," he said.
"I have forgiven him, he has proven his mettle. Why should I harbor any malice toward him?" Anwar said. "My position is to give him all the support necessary to allow him to ensure the agenda for reform, the changes that need to be done, can be made."
Najib has criticized Mahathir's new political allegiance, calling him Malaysia's "No. 1 actor" for making up with Anwar and saying "I had to shake my head in disbelief seeing his antics."
Najib, who is prevented by the new government from leaving the country, is being investigated by the new government over the 1MDB scandal.
Malaysian police teams have raided two residences of Najib in Kuala Lumpur late Wednesday, with searches still continuing into Thursday.
UMNO, the former ruling party in the Barisan Nasional coalition, accused Mahathir of political "opportunism."
Mahathir's return to politics gave a new lease on life to the former opposition alliance, which had floundered since its leader Anwar was jailed.
"The greatest litmus test of Mahathir's commitment to the (opposition) is if he hands over power to Anwar, as he promised," said Fung Siu, regional manager for Asia at the Economist Intelligence Unit.
She pointed out under Malaysia's political system, after he receives a royal pardon, Anwar will still have to win a seat in parliament before he can take the premiership.
"A leadership change would unsettle financial markets, particularly if the process were to become long-drawn and turn acrimonious," Fung added.
Abdullah, in a book about his time in power, said, "Mahathir is set in his ways. And he believes that his way is the only way."
"It is ironic that the man who crushed the opposition while in power has remade himself in retirement as the de facto leader of what in essence is a citizens' revolt," Yang Razali Kassim, a senior fellow at the S. Rajaratnam School of International Studies, said ahead of the vote.(SD-Agencies)