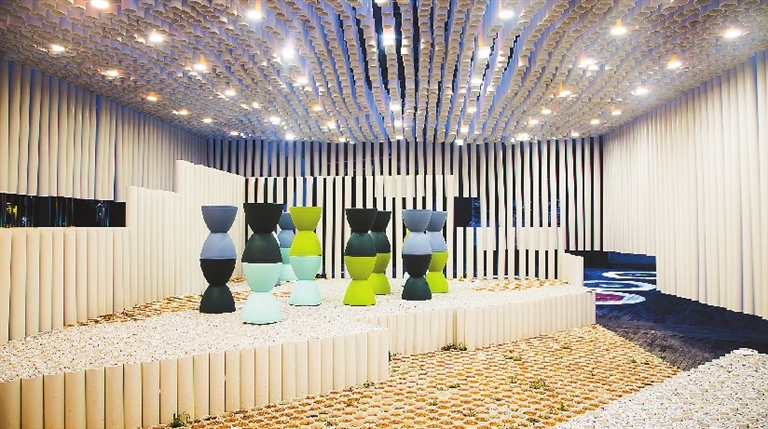 Cao Zhen
caozhen0806@126.com
OCT-LOFT, the old-factory-turned cultural complex, is never short of inspiring events.
"Beyond the Scenery," a public art exhibition showcasing eight art installations scattered throughout various locations of OCT-LOFT, opened recently. According to curator Shen Ruijun, the exhibition borrows ideas from traditional Chinese gardening culture to explore possibilities in bridging modern life and Chinese cultural values in OCT-LOFT.
"Traditional Chinese gardening approaches do not emphasize controlling nature; instead, it asks people to consider the surroundings, consider the seasonal changes and take measures only in due time. In designing Chinese gardens, such ideas are manifested in the aesthetic principle of admiring the varied sceneries of each season and the charm of all types of weather. In building a Chinese garden, even sounds of wind and rain, tree branch shadows and the fragrance of flowers need to be considered and enjoyed," said Shen.
The curator and artists hope the contemporary artwork will serve as a medium for cultivating visitors' perceptions when they visit OCT-LOFT, ultimately inspiring them to ponder deeper questions beyond material life.
Architect He Jianxiang's "Round/Grounds" (in front of the C2 building in OCT-LOFT's North Area) is a modern pavilion made up of PVC tubes filled with soil. He invites visitors to rest inside the pavilion and share ideas while enjoying the cool breezes.
Artist Xiao Yu places several curved bamboo sticks on the wood floor above Old Heaven Bookstore in North Area for his "Translocation" installation. He said all the sticks were transformed from upright to curving and twisting, a metaphor for the message that any individual can adapt himself to become more embracing of and collaborative with others.
When night falls, visitors can admire Yang Jiecang's neon lights "Everything Is Ok" on the building of Starbucks in South Area. This work combines a Chinese ink painting mural with the graffiti-type English words "Everything Is Ok" in neon lights in a blend of traditional and modern art.
Dates: Until Aug. 5
Venue: OCT-LOFT, Nanshan District (南山区华侨城创意文化园)
Metro: Line 1 to Qiaocheng East Station (侨城东站), Exit A; or Line 2 to Qiaocheng North Station (侨城北站), Exit B