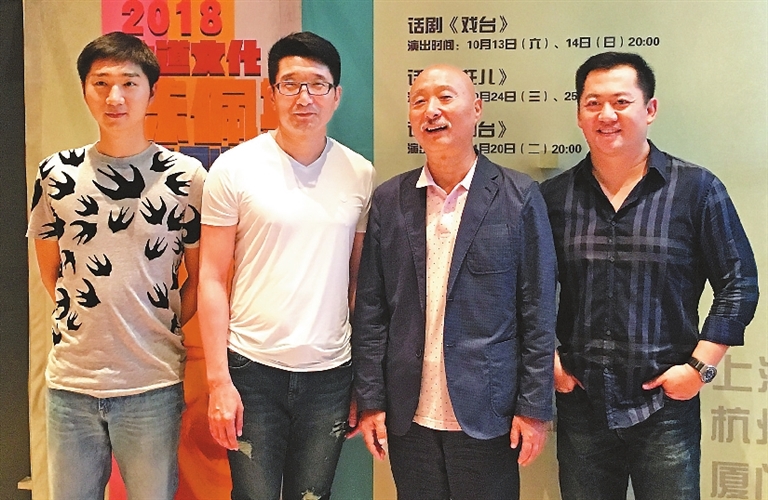 Debra Li
debra_lidan@163.com
LOCAL audiences are in for a treat with some good laughs, as four comedies produced by veteran comedian Chen Peisi and his company Dadao Culture will tour to Shenzhen at Shenzhen Poly Theater between October and November this year.
Chen himself will star in historical comedy "The Stage"; his son Chen Dayu will star in "The Shill"; actor Bai Yu will lead in crime comedy "The House"; and "The Balcony" will star former Beijing TV emcee Wang Xudong.
The most famous Chinese comedian before Zhao Benshan, 64-year-old Chen was best known for his stand-up comedy shows at the China Central TV's Spring Festival galas between 1984 and 1998.
Turning his interest to theater in the new millennium, Chen started a career of scriptwriting, directing and producing comedies. He made his theater debut with "The Shill" in 2001, which ran 120 nights in nearly 50 Chinese cities. His 2004 comedy "The Balcony" ran more than 150 nights and was performed in three versions, each in a different dialect. He launched "The Stage" in 2015, which toured to Shenzhen in its second year. "The House," first launched in 2010 and having undergone drastic changes, was Chen's attempt at an open-ended comedy inviting interaction from the audience.
In the new production of "The Shill," 28-year-old Chen Dayu acts as the manager of a dating agency that hires pretty girls to pose as registered clients to lure customers. One of the girls is in fact Chen's girlfriend. When a self-proclaimed returned overseas Chinese businessman signs up with his matchmaking agency and becomes interested in Chen's girlfriend, things begin to spin out of control.
"The Balcony" tells the story of labor contractor Old Mu, who is heavily in debt. In a desperate attempt to get his overdue payment back, Mu threatens suicide by jumping off a tall building. Falling by accident onto the balcony belonging to corrupt official Hou, Mu discovers Hou has been hoarding huge volumes of bribes and embezzled money and keeping a secret lover.
Set in China in the early 20th century, "The Stage" stars the senior Chen as the head of a Beijing opera troupe, who is to stage three nights of shows in collaboration with a big-shot singer. Unexpected scenarios, however, continue to pop up, such as when the big-shot singer turns out to be a drug user and gangsters break in to extort money. Then, a warlord who is an avid fan of Beijing opera wants to change the plotline of the show.
The first half of "The House" introduces the audience to a murder case that occurs in an ancient family home, while in the second half, audiences are invited to raise questions and find out the true culprit among several suspects, each with their own motives and secrets.
Chen said his main goal is to tell believable stories with well-rounded characters that bring laughter to audiences.
"At the kernel of comedies, there is often a hidden tragedy," Chen said. "Whether it's the matchmaking agency's boss who almost loses his beloved to a fraudster, or an official exposed by accident, the coincidences and the awkward scenarios encountered by the characters to the effect of absurdity give rise to good laughs while also reflecting social problems."