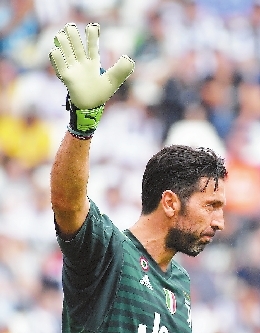 IT was a day of celebration but also of tears as Juventus captain Gianluigi Buffon played his last match for the Bianconeri after 17 years at the club.
Juventus beat already-relegated Hellas Verona 2-1 in the final round of Serie A on Saturday, an hors d'oeuvre to the main course that was bidding an emotional farewell to Buffon and receiving the league trophy for a record-extending seventh successive time.
Buffon, widely regarded as one of the best goalkeepers ever, announced Thursday he was leaving Juventus although the 40-year-old World Cup winner has put off retirement to consider offers to play overseas.
"Today, it was right that Gigi Buffon was honored for all he has done, there was no better way to finish this year," said Juventus coach Massimiliano Allegri, who has worked with Buffon since joining the club in 2014.
"I was moved for him. In these four years I have seen him do impressive things and he deserved a goodbye like this. There was a wonderful atmosphere."
Buffon was last onto the podium after the match to lift the Serie A trophy as fans and teammates alike chanted his name and applauded.
The tributes — and the tears — started even before kickoff.
Buffon ran out for the warmup first as defender Andrea Barzagli held back his teammates for a few seconds to let the goalkeeper enjoy the reception on his own.
The former Italy captain spent several minutes under one of the stands behind the goal and had tears in his eyes as he hugged many fans.
A huge banner of Buffon was unveiled before kickoff, while there were continuous chants and songs about him during the match. Buffon, who could be seen at times wiping away tears, had hardly a save to make.
His counterpart Nicolas was far busier and saved a late penalty from Stephan Lichtsteiner, who was also playing his farewell match for Juve.(SD-Agencies)