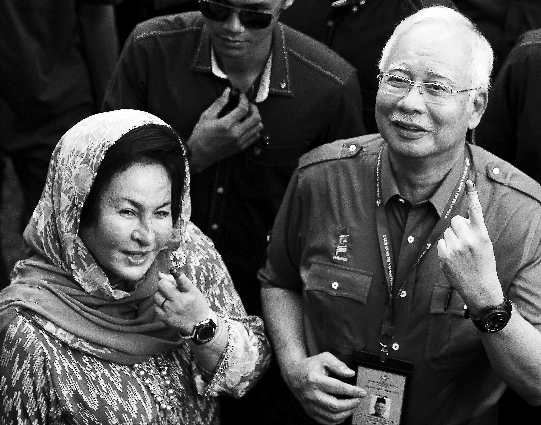 MALAYSIAN police Thursday night raided three apartments in a posh Kuala Lumpur condominium owned by former Prime Minister Najib Razak's family, carting away 284 luxury designer handbags and 72 bags filled with jewelry, cash of various denominations, watches and other valuables.
Amar Singh, director of police commercial crime investigations, said the police have searched six premises since Wednesday — the Prime Minister's Office, Najib's residence in Taman Duta and four other residences linked to him.
At one of these residences, Pavilion Residences, the police took what was likely to be their biggest haul, loading five police trucks with hundreds of orange boxes containing Hermes Birkin bags. Astro Awani reported that a police officer emerged from the condominium with a money counting machine.
Madam Rosmah Mansor, Najib's wife, is known for her penchant for Birkin bags. Each bag costs anywhere between US$12,000 and US$300,000. She caused a stir when it was reported that she bought a US$200,000 crocodile Birkin bag in 2015. Her aide denied it.
On Friday, the crime investigation team lodged a report of the items seized from the Taman Duta mansion, which included over 50 luxury handbags from brands like Chanel, Gucci and Prada. Amongst the haul were 10 luxury watches including several Rolexes and a Patek Philippe.
Najib and his wife have been tied to the country's most high-profile financial scandal. The U.S. Department of Justice, in its probe, found that Rosmah had purchased a pink diamond worth US$23 million with 1MDB funds. 1MDB was founded by the previous administration as a sovereign wealth fund meant to generate economic development via strategic investments. However, the fund soon spiraled into debt, and at its peak, had amassed up to RM50 billion (US$12.6 billion).
(SD-Agencies)