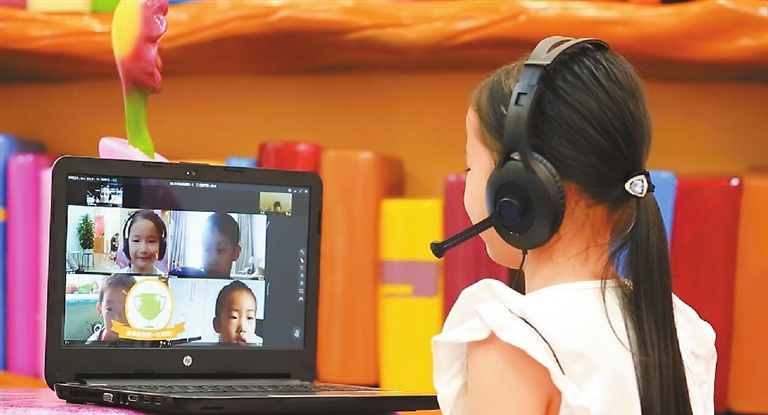 MIKELL BROWN lives in Utah and works two jobs, both from home.
As a mother of two girls, aged 3 and 5, she spends much of the day taking care of her children. But in the early mornings, she teaches English to children in China from her laptop.
Brown has worked for online English-learning app VIPKID for almost one year. The app, mainly for children under age 12, has hired over 40,000 native speakers in North America, mostly in the United States, to teach English online.
"That was my first thought: What? I can work from home? What? I can make money?" she said. "I really thought it was too good to be true."
The online English-learning service has been welcomed by more Chinese parents over the past two or three years and is building a bridge over cultural differences by meeting demand from both China and overseas.
Rising online learning service
By doing an online class based on selected textbooks, a child can communicate with a native speaker teacher face-to-face. One class, usually less than an hour, generally costs more than 100 yuan (US$16).
With a number of online English learning companies for children emerging, the number of customers is expected to reach nearly 8 million and the market value may exceed 5 billion yuan in 2019, according to an analysis report released by China's consulting company iResearch in 2017.
Mi Wenjuan, founder and CEO of VIPKID, is even more optimistic. "There is huge growth potential for the online education market. The penetration rate was only 2 percent in the past two years. Its annual growth rate will come up to over 20 percent in the next few years," he said.
In August last year, VIPKID finished its series D financing and received investments totaling US$200 million.
"More parents now want their children to grow up with a global vision," said Xu Zhe, CEO special assistant of VIPKID, which now has more than 300,000 customers.
"Parents are spending more on children's education, and more people are accepting online products," said Yao Shuwen, vice president of public relations of DaDa, another leading online English-learning service provider in China.
China is expected to become a key online education market in the wake of the second-child policy, according to which married couples can now have two children instead of one. Also, third- and fourth-tier cities in China are expected to see a consumption boom.
"At present, over 50 percent of our students are from first-tier cities. We'll put more resources in the third- and fourth-tier cities, providing children there with high-quality English learning resources."
VIPKID and the Jack Ma Foundation have launched an English-language education initiative for schools in rural China with the goal of reaching 200 schools in rural China within two years, Mi said.
The firm makes efforts to teach Chinese to non-Chinese kids as well.
"As China's presence on the global stage continues to grow, Lingo Bus has designed an immersive online Chinese learning program for students aged 5 to 12. This is expected to be a pioneer in bringing China to the world and bringing the world to China. It aims to attract 50,000 paid users and 10,000 professionally trained Mandarin teachers over the next three years," said Mi.
According to the 2017 White Paper on Online Education in China, the online education market will grow over 20 percent annually. The report released in April was compiled by the Ministry of Education, Beijing Normal University and Baidu Education.
The number of users has reached 144 million, 120 million of whom use mobile phones, according to the report, based on the study of more than 200,000 cases.
More than 53 percent of Chinese parents have purchased online classes for their children, 31.2 percent of them more than once.
Nowadays, the most active mobile app for online education is Zuoyebang, which helps secondary school students with their homework. But a new trend in online education is now booming: science, technology, engineering and maths (STEM).
By 2020, around 50 million parents are projected to enroll their children with this online curriculum for learning coding and robotics from young age, though it costs 200 yuan per session.
Emerging remote job
opportunities
While meeting demand for more accessible and convenient English-learning, companies like VIPKID and DaDa also benefit people living in the United States, Canada and other countries by providing remote jobs.
Working for the online learning service, teachers can publish schedules online based on their own time arrangements and teach classes from wherever there is Internet access.
VIPKID was listed as the first of 100 top companies with remote jobs in 2017, surpassing big companies like Amazon and Dell, reported flextime job-searching website FlexJobs in January this year.
Though the company had only over 100 teachers when it first started four years ago, now it receives 40,000 to 50,000 job applications every month from overseas. All applicants need to meet several requirements, including a bachelor's degree and teaching experience.
"Most of our teachers are doing it part-time," Xu said.
Many of the staff have difficulty trying to juggle a full-time job because of various commitments.
Brown gives about 25 lessons of 25 minutes in duration per week and earns around US$800 a month. Her husband Nick, who also works as a teacher for the app, teaches 55 classes a week and is paid about US$2,000 per month.
"It gives me the best of both worlds. I'm able to stay at home with my children, which is extremely important to me, and it also provides me a sense of knowing that I'm being useful outside of the home," said Brown, who used to work as a full-time teacher but is now busy taking care of her young children.
"Apart from teaching classes, teachers can also participate in interviews or training other teaching staff, and even help designing the classes," said Yao, who works for DaDa.
"The one-to-one classes also build a close relationship between teachers and children," Yao said. "Some teachers even come to tears when their students stop taking classes."
Bridging cultural gaps
For many of the teachers, a relationship is built not only personally but also culturally as they get a chance to learn more about China when teaching Chinese children English.
VIPKID started its online Chinese learning service last year, and has more than 10,000 students now, many of who are children of the company's English teaching staff.
"Some of our teachers even take trips together to China, visiting cities such as Shanghai, Beijing and Xi'an," said Li Bo, public relations director of VIPKID.
Brown, who previously gained most of her knowledge about China from movies, has also leaned things about Chinese festivals, as well as greetings and simple words in Chinese from her students.
"Culturally it has just opened my eyes to the beautiful, wonderful country," said Brown, who has taught over 800 children, together with her husband. "Even my children, anytime they hear about China, they say, 'Oh, my mom works in China.' And they love it."
As communication has widened, emerging business should further grow and benefit people from both sides.
"While more people have embraced the online English-learning service, only a few people are actually paying for the service now, meaning that the market has great potential," Yao said.
And according to Xu, "Online English-learning services are helping Chinese people go global, and people overseas to better realize their values via more job opportunities."
(Xinhua)