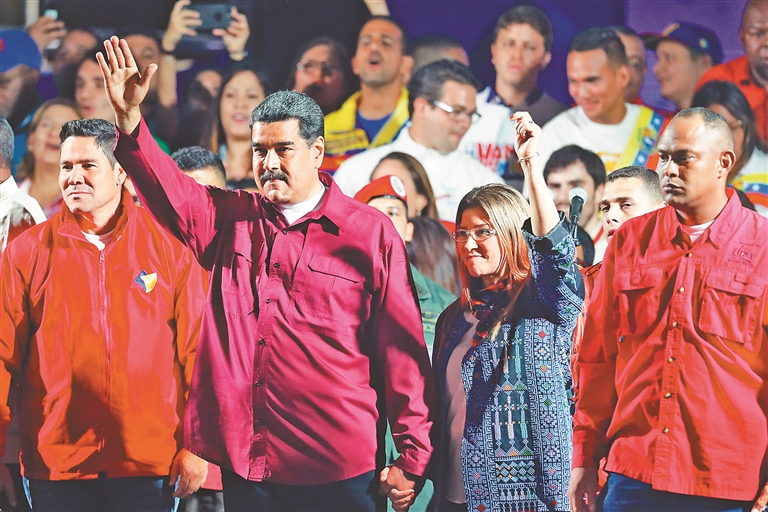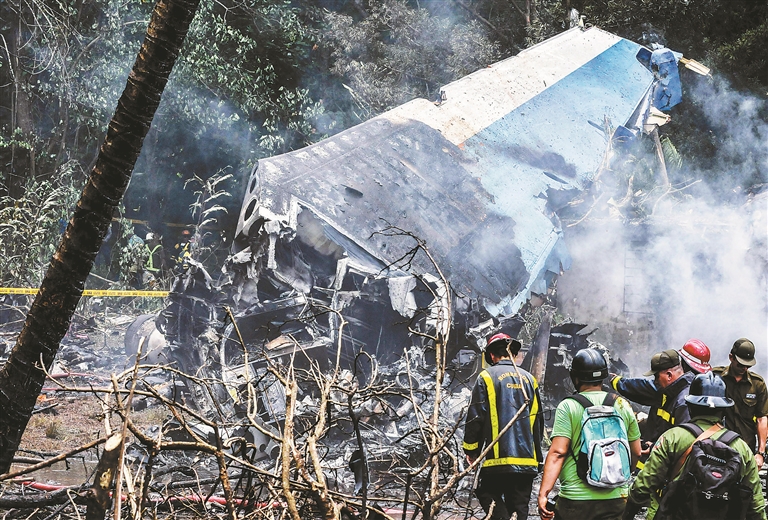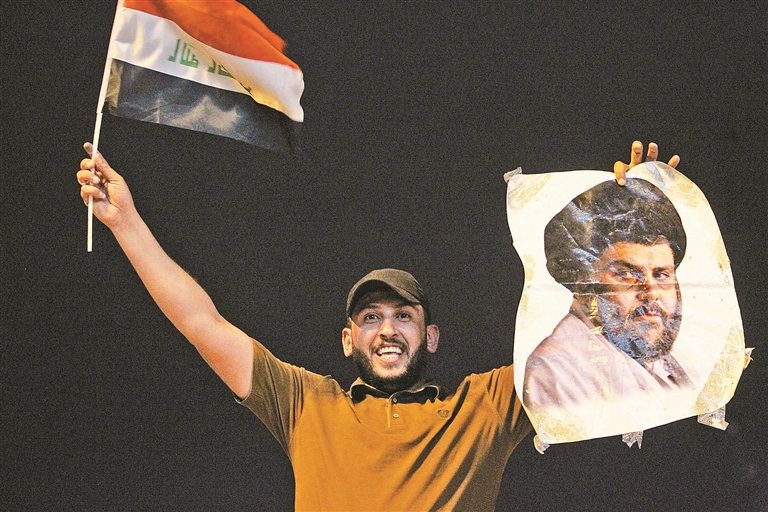 British royal wedding breaks old molds
Britain's Prince Harry and his wife Meghan Markle wave as they ride a horse-drawn carriage after their wedding ceremony at St. George's Chapel in Windsor Castle in Windsor, Britain, on Saturday. Prince Harry and Meghan married on Saturday in a dazzling ceremony that blended ancient English ritual with African-American culture, infusing the 1,000-year-old British monarchy with a blast of modernity.SD-Agencies
Maduro declared winner in Venezuela vote
Venezuelan officials declared socialist leader Nicolas Maduro the winner of Sunday's presidential election, while his leading challenger questioned the legitimacy* of a vote marred* by irregularities and called for a new ballot to prevent a brewing social crisis from exploding.
The National Election Council announced that with almost 93 percent of polling stations reporting, Maduro won nearly 68 percent of the votes.
The victory is likely to heighten international pressure on Maduro, as voter turnout was the lowest in a presidential race since the start of Venezuela's leftist revolution two decades ago.
Cuba confirms 110 killed in plane crash
Cuban authorities said the fiery crash of an aging Boeing passenger jet on Friday shortly after takeoff from Havana had killed 110 of the 113 on board, making it the Caribbean island's deadliest air disaster in nearly 30 years.
Flags flew at half-mast in Cuba on Saturday, marking the start of two days of national mourning while authorities worked to recover evidence from the site of the crash. Fifteen have been identified so far and one black box retrieved*.
Pakistan family mourns daughter killed in US
Abdul Aziz learned about the U.S. school shooting in which his 17-year-old daughter was killed from CNN, with the story airing live as he broke his Ramadan fast thousands of kilometers away in Pakistan.
In those chaotic* first moments of confusion and terror he called his daughter Sabika Sheikh's phone over and over. Sheikh, an exchange student at Santa Fe High School in Texas, was killed along with nine others on Friday.
Shiite cleric al-Sadr leads Iraq vote
The final result of Iraq's elections confirmed on Saturday was a breakthrough* for nationalist cleric Muqtada al-Sadr, who was in the lead, ahead of internationally favored Prime Minister Haider al-Abadi.
But the possibilities for alliances to form a coalition government remain wide open. None of the three leading groups won more than 55 of the 329 seats up for grabs in parliament in the May 12 vote, which saw record high abstentions* with just 44.52 percent turnout.
Tropical cyclone hits Somaliland
At least 15 people have died in Somaliland after heavy rains caused by tropical cyclone* Sagar, which landed in the Horn of Africa over the weekend.
"In the last 24 hours, heavy rains killed 15 people in the districts of Lughaya and Baki," Abdirahman Ahmed Ali, governor of the Awdal area, said on Sunday. "The Somaliland government has started giving emergency help to the victims."(SD-Agencies)