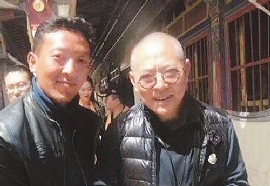 JET LI'S manager has parried talk that the Chinese action star has been felled by an illness. According to USA Today, Steven Chasman said Li, 55, is "completely fine."
Recent photos circulating on China's social media have stirred speculation about the actor's health. The photos of Li visiting a temple in Tibet seemed to depict him as very frail.
But Chasman quashed the online chat, calling it "much ado about nothing." "We appreciate everyone's concern. But Jet is completely fine. There's nothing wrong with him. There's no life-threatening illness. He's in great shape."
He pointed out that one photo cannot really provide the big picture of Li's condition.
"It's one picture and people are making these interpretations from it. If you took a picture of me at the wrong angle and wrong time of the day, I could look frail as well."
What is known is that Li, in 2010, was diagnozed with hyperthyroidism, whose symptoms include muscle weakness and sleeping problems.
But last Saturday, Hong Kong newspaper South China Morning Post reported that Li had revealed last year that even though he had been taking medication, the condition "kept coming back."
But he has not pressed the pause button on his career. Last month, it was reported that he was in talks to play the emperor in Disney's upcoming live-action version of "Mulan," together with Chinese star Gong Li. (SD-Agencies)