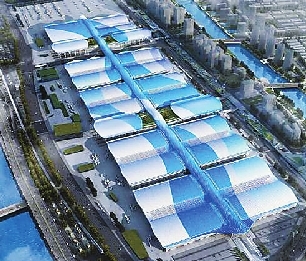 THE Shenzhen International Convention and Exhibition Center in Fuhai Subdistrict in Bao'an District will open in September next year, according to a project meeting May 10.
Upon completion, it will replace Germany's Hannover Exhibition Center as the biggest in the world, with an indoor exhibition area covering over 500,000 square meters.
Around it, an airport new city will quickly rise to boost the industrial vigor of Shenzhen's west coast and the city's radiating influence over the Pearl River Delta area.
Covering a total of 1.51 million square meters of floor space, the 24.4-billion-yuan (US$3.87 billion) project, situated to the north of Shenzhen International Airport, comprises 18 20,000-sqm standard exhibition halls, one 40,000-sqm exhibition hall, a 1,700-meter central hallway, two lobbies and 11 subsidiary buildings. The exhibition halls will have conference rooms with a total floor area of 510,000 square meters. A 560,000-square-meter garage will accommodate visitors' vehicles.
The city's current convention and exhibition center can't handle the increasing demand for large-scale events, media reports said.
Occupying an area of 280,000 square meters, the Shenzhen Convention and Exhibition Center in Futian CBD was completed in 2004. Its indoor exhibition space only covers 105,000 square meters. It has held almost 300 exhibitions and more than 1,350 conferences since opening.
The preparatory work for the new convention and exhibition center started in September 2015, and the city government has set goals of "top-level design, first-rate construction and first-grade operation" for the project.
(SD News)