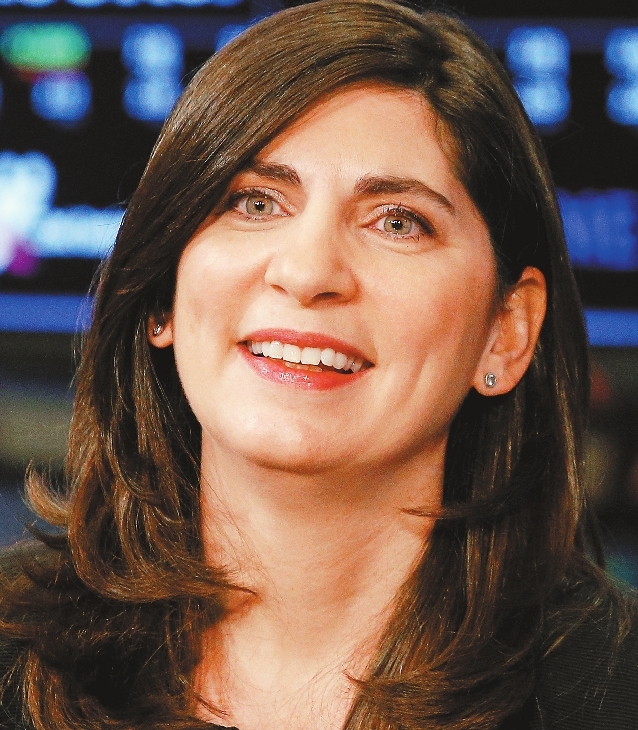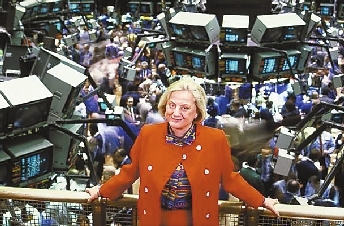 WHEN the New York Stock Exchange (NYSE) was founded under a tree in 1792, women in the United States couldn't vote, write wills or even have property in their own names. Now, 226 years later, a woman will oversee the NYSE — the largest stock exchange in the world — for the first time.
Intercontinental Exchange Inc. announced Tuesday that Stacey Cunningham, 43, will become the 67th president of the NYSE. Coming from her position as chief operating officer (COO) of NYSE Group, Cunningham will be the first female to take on the role. She starts Friday, according to the Wall Street Journal, and succeeds Thomas Farley, who has served in that role since May 2014.
"As our COO, Stacey Cunningham successfully managed our equities, equities derivatives and ETF businesses, distinguishing herself as a customer-focused leader who is respected across our industry," Jeff Sprecher, chairman and CEO of Intercontinental Exchange, said in a news release.
"More than a half century after Muriel Siebert became the first woman to own a seat on the NYSE, Stacey represents a new generation of leadership for the NYSE Group."
The NYSE has a long history of overlooking the existence of women. It wasn't until 1967 that Siebert became the first woman to get a seat for trading on the stock exchange floor, and that was only after nine men turned down her request for sponsorship.
In 2002, Catherine Kinney became the NYSE's first woman co-president, but the role wasn't as powerful as it sounds, because, at the time, the real boss of the exchange was the CEO or chairman. That responsibility now falls to Cunningham.
"Since the moment I stepped onto the trading floor, the NYSE has always held a special place in my heart," Cunningham wrote on Twitter. "I am humbled and honored to have the opportunity to lead this organization."
But Cunningham is not only making history. She also has a seriously impressive backstory.
Her journey dates back to 1994, when she started at the stock exchange as an intern. At the time, she was still in college at Lehigh University studying industrial engineering, and the exchange was struggling to adjust to having women around.
At that time, after nearly three decades had passed since Siebert bought her seat on the NYSE, the women's bathroom at the stock exchange was still in a converted phone booth, according to a Wall Street Journal report.
Despite the challenges, Cunningham fell in love with the atmosphere. Two years later, she became a trading floor clerk — something she credits Siebert with making possible.
"I was a woman trader on the floor, and I never thought about it — I never thought for a moment whether or not that could happen, and whether or not that was an opportunity available to me," Cunningham told The Street earlier this year.
"And it's because Muriel paved the way. I think it's just really important to recognize that any time a woman pushes the boundaries and redefines the boundaries, she's redefining them for everyone else that follows her."
According to The Street's relationship mapping service BoardEx, she worked there for more than eight years as a specialist for a unit of Bank of America.
In 2005, though, Cunningham's career took a brief detour. As the world increasingly embraced technology, Cunningham became frustrated with the slow pace of change on the NYSE floor at that time.
"The trading floor back then was still entirely manual but the market had moved past that, and we hadn't yet made that transition to combining technology with the floor. It felt wrong to me," she said.
So she left Wall Street for the Institute of Culinary Education, complete with a stint at the now-closed restaurant Ouest.
She told the Financial Times that working in the kitchen wasn't so different from being on the trading floor, because both gigs required her to multitask and handle mistakes efficiently.
"The environment was so much like the trading floor. Things that would not be okay in really any other place tend to be okay on the trading floor and in the restaurant kitchen," Cunningham told the Financial Times last year.
"The way you interact with your co-workers during stress — everyone knows now to not take it personally for the most part. On the floor you might in the heat of the moment be aggressively fighting over a trade, and at the end of the day go grab a beer together."
According to her LinkedIn page, Cunningham then worked for NASDAQ from 2007 to 2012 before rejoining the NYSE. At NASDAQ, Cunningham climbed the rank. She started out as the director of capital markets at NASDAQ in March 2007 and was eventually named head of sales for U.S. transaction services in August 2011.
In December 2012, Cunningham returned to NYSE and in under three years was named the exchange's chief operating officer.
"I just don't think your career is linear," she told the Times. "I didn't think it was going to be a problem to take time off, and I didn't think it was going to be an issue coming back in. I felt like I learnt a lot from my time away. Your skills are transportable."
Calling her appointment "a full circle story for me," Cunningham told CNBC that she would pursue new types of financial listings and work to reverse the decline of international public offerings.
"We absolutely want to see companies continue to access the public markets," she said.
These days, women at the NYSE are still a rare breed: Just this month, BBC News published an interview with the only female currently working full-time as a broker on the NYSE floor.
Cunningham acknowledged that very few women work in finance and technology. "It's a male-dominated environment," she said, adding that "it hasn't changed quite as rapidly as some other industries have changed."
Cunningham told The Street that she hopes more diversity is coming — and she thinks it starts with telling young girls positive messages about their careers.
One fitting coincidence is that last month it was announced that the "Fearless Girl" statue, which has become a global symbol of female business prowess, will be moved from her spot staring down Wall Street's bronze "Charging Bull" to a new home facing the NYSE.
It's also worth noting that the NYSE's rival stock exchange, the NASDAQ, also has a woman CEO, Adena Friedman, who became the chief executive of the exchange in January 2017.
In a 2015 speech, Cunningham advised people to choose the right goals. She admitted that she never saw herself ending up on Wall Street, but now she's running things there.
"It just took one day. One day to change my career path. The moment I walked into that building and onto the floor, I just knew it was the place that I belonged at that time," Cunningham said.(SD-Agencies)
Things to know about
Cunningham
• Cunningham was studying industrial engineering at Lehigh University when she became a summer intern at the stock exchange in 1994. The profession was still incredibly male-dominated. One sign of that was that the phone-booth-turned-women's-bathroom — put in the members' lunch club for Muriel Siebert, the first woman to own a seat on the NYSE in 1967 — was still there, while the men had a "palatial" room with couches, amenities, and a full-time attendant.
• She came on to the NYSE full-time in 1996, working as a specialist for Bank of America Securities.
• She took a break from the NYSE to go to culinary school, and has been known to whip up grilled peach and burrata snacks in the NYSE's on-site kitchen.
• After her time away from the trading world, Cunningham also worked at the NYSE's crosstown rival, the NASDAQ for three years before returning to the NYSE in 2012.
• Cunningham has pointed to Siebert as a strong inspiration for her own career. "It took 175 years for the first woman to become a member of the NYSE. Siebert didn't have an easy path, but she was ambitious and it was fantastic. When she was faced with obstacles she put her head down, she was quoted as saying, 'I put my head down and charge.' That was her DNA, so she fought for it and, ultimately, she prevailed. It was Dec. 28, 1967, when the ratio of men to women members of the NYSE became 1,365 to 1," Cunningham said in a speech at the Tory Burch Embrace Ambition Summit in April.
• Two of the world's largest stock exchanges are now run by women. As Cunningham steps into her new role Friday, she will be joining Adena Friedman, who is currently the president and CEO of NASDAQ. Together, they will be overseeing two of the largest stock exchanges in the world in terms of market capitalization.
(SD-Agencies)