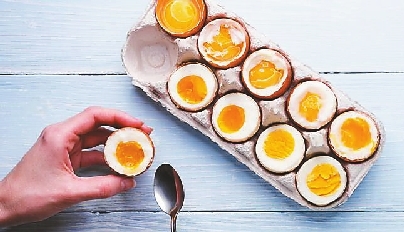 A STUDY of nearly half a million people in China suggests a daily egg may reduce the risk of heart disease and strokes.
Experts stress any egg consumption needs to be part of a healthy lifestyle to be beneficial, and fears that eating too many eggs can be bad for you appear to have been laid to rest.
"One can deliberate on the many limitations and caveats of nutritional research, but the take-home message of this research from a large study done in China is that at the very least up to one egg a day is not linked with raised cardiovascular risk, and at best up to one egg a day may even have health benefits," says Nita Forouhi of the University of Cambridge, commenting on the work.
The study, published in the journal Heart, follows years of bad press for the humble egg — from salmonella scares to cholesterol fears.
These days most doctors encourage the eating of eggs as part of a healthy diet, as they are one of nature's most nutritionally dense foods — containing high levels of protein, Vitamins A, D, B and B12, as well as lutein and zeaxanthin that can help prevent eye damage in old age.
"One — even two — a day is absolutely fine," says Frankie Phillips of the British Dietetic Association.
Perhaps the only caveat, says Phillips, is that eating too much of any one particular food "means missing out on other nutrients in other foods."
While eggs are a great source of protein, Phillips cautions that typically we already have plenty of protein in our diets and too much (two or three times the recommended daily amount) can put a strain on kidneys.
The benefits of an egg have been embraced by many diets, including the high-protein Atkins diet
According to Heart UK, one average egg contains about 4.6g of fat, about a teaspoon. But only a quarter of this is saturated, the type that increases cholesterol levels in the body.
In terms of how we cook an egg, they are arguably at their most simple and nutritious boiled or poached.
Most dietitians do not recommend frying an egg, because of the associated fat content and increased cholesterol intake.
Cooking eggs thoroughly is the safest option if you are still concerned about food poisoning.
Never buy eggs that are broken or cracked, in case they have been infected by dirt or bacteria.
BBC Good Food recommends storing eggs in the fridge, in their box or a separate covered compartment.
Whites last for up to three weeks in a container. Yolks will last up to three days. Both should be covered in cling film. Both can also be frozen for up to three months.
Many will know the trick of putting an egg in a bowl of cold water to check it is still fresh. If the egg sinks to the bottom of the bowl, it is fresh. If it sits on the surface, it is less so.
Most eggs have a shelf-life of 28 days from the date they were laid. Basic kitchen hygiene should always be followed.
Some people are allergic to eggs. It is quite common in children under five but rare for it to develop in adulthood.
For anybody not allergic, "all advice and evidence says they are good to eat in all their forms... but how you cook them needs to be looked at," says Phillips.
And hold the salt. (SD-Agencies)