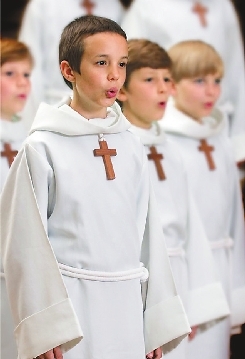 French boy choir The Little Singers of Paris will present a night of classical tunes and folk songs at Shenzhen Concert Hall.
Known as Les Petits Chanteurs à la Croix de Bois in France, The Little Singers of Paris has its origins in 1907 and has toured widely inside and outside France. The aim of its founders was to form a choir that would travel from place to place and bring people the splendors of Gregorian chant. Since then, and over 17,000 concerts later, secular and traditional world music has been added to their repertoire.
Drawn from the less privileged, the boys join the choir school at 9 or 10 years of age and remain until their 15th birthday. The choirboys board during the week and the musical and educational curriculum that they follow is adapted specifically for them. Each year they undertake approximately seven national tours of France and three international tours.
Darius Milhaud who wrote the "Cantata of Peace" for The Little Singers in 1937 called the school "a miracle of faith, tenacity, enthusiasm and talent."
Time: 8 p.m., May 27
Tickets: 180-580 yuan
Venue: Shenzhen Concert Hall, intersection of Hongli Road and Yitian Road, Futian District (福田区红荔路和益田路交汇处深圳音乐厅)
Metro: Line 3 or 4 to Children's Palace Station (少年宫站), Exit D(SD News)