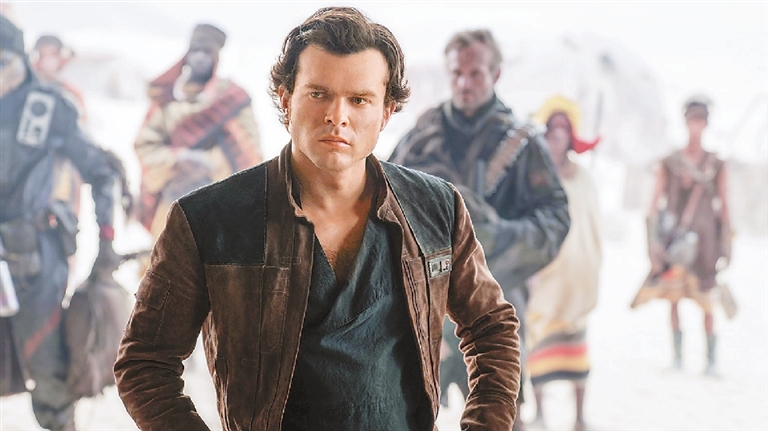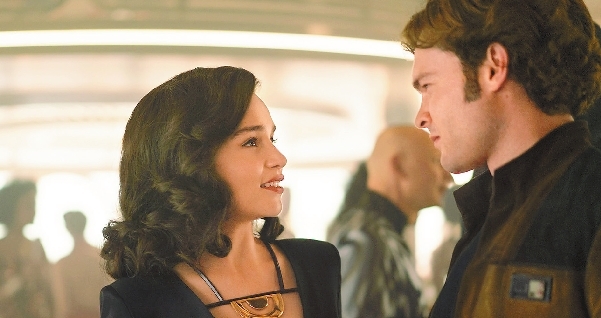 Starring: Alden Ehrenreich, Woody Harrelson, Emilia Clarke, Donald Glover, Thandie Newton, Phoebe Waller-Bridge Director: Ron Howard
WITH the charm-oozing younger version of Harrison Ford's Han Solo as its protagonist, the second "Star Wars" spin-off is a fun, if lightweight space Western, made slightly serious by an equal rights — for humans, Wookiees, even droids — subtext. Though never likely to become an essential part of the franchise, "Solo: A Star Wars Story" is good enough to tide fans over until the next "main saga" film, just as the first so called "Star Wars Anthology" entry, 2016's "Rogue One," filled the gap between "The Force Awakens" and "The Last Jedi."
After its May 15 out of competition screening at Cannes, "Solo" lands in cinemas throughout most of the world between May 23 and 25. That should ensure a massive opening that will get the Disney-distributed Lucasfilm romp well on its way to matching, or maybe beating, the final box office totals — US$532.2m in North America and US$523.9m in the international marketplace — of Christmas release "Rogue One."
The first piece of good news is that there is no glaring evidence on screen of the production troubles that led to Ron Howard replacing original directors Phil Lord and Chris Miller (the "Lego" Movie filmmakers who were reportedly fired for taking "Solo" in too comedic a direction) midway through production. That may be because the dominant influence was Lawrence Kasdan, a veteran of "The Empire Strikes Back," "Return of the Jedi" and "The Force Awakens," who wrote "Solo" with his son Jonathan.
The Kasdans' script, set before the start of the original 1977 movie, has the young Han (played by Alden Ehrenreich, from "Rules Don't Apply" and "Hail, Caesar!") escaping from his home planet and a life of street crime to join a gang of interplanetary robbers led by gruff but good-hearted career criminal Tobias (Woody Harrelson). The gang's attempts to steal a hoard of valuable fuel for vicious crime lord Dryden Vos (Paul Bettany, from that other saga, Marvel's "Avengers") make for a couple of exciting set-pieces: a mountain side train robbery and a desperate getaway run from the planet Kessel. Like most "Star Wars" franchise outings, "Solo" makes terrific use of locations — this time in the Dolomites and the Canary Islands — and classy, state-of-the-art effects work.
But the action ultimately takes second place to the fun moments linking the spin-off to the main "Star Wars" saga. There's Solo's first meeting with towering Wookiee Chewbacca, his first sight of the Millennium Falcon and the scene where Chewie first takes to the ship's co-pilot seat.
Ehrenreich makes a likable young Solo, with most of the familiar character's roguish appeal but none of his cynicism. As the dapper Lando Calrissian (played in the original trilogy by Billy Dee Williams), Donald Glover (creator and star of TV's "Atlanta" and sometime rapper as Childish Gambino) gives the film a dose of charisma and pop culture buzz.
Elsewhere, new characters also include Han's romantic interest Qi'ra (Emilia Clarke from "Game of Thrones" in a disappointingly dull role), Tobias' partner in life and crime Val (Thandie Newton from "Westworld") and Rio, a smart-alecky four-armed alien (voiced by Jon Favreau). The most interesting addition is a self-made, no-nonsense droid L3-37, played, with lots of digital effects help, by Phoebe Waller-Bridge from "Fleabag."
The movie is now being screened in Shenzhen. (SD-Agencies)