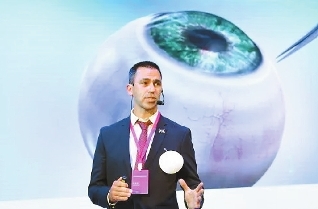 Zhang Qian
zhqcindy@163.com
TWO innovators, Almog Aley-raz and Gilad Litvin, from Tel Aviv, Israel won the first prize for the grand final contest of the Second China (Shenzhen) Innovation & Entrepreneurship International Competition held at Cloud Park in Longgang District on April 13, 2018. They will receive an award of 1 million yuan (US$159,200).
The project presented by the Israeli startup was called CorNeat Vision, a technology that transplants a new type of artificial cornea into visionally impaired patients.
Three projects selected from the Berlin, Silicon Valley and Toronto regional contests won second prizes, while six other projects from Tel Aviv, Boston, Silicon Valley and Sydney earned third prizes.
A total of 23 projects entered Thursday's grand final contest. All of the final contestants were winners of the top three prizes in the five industry contests and three professional contests held in Shenzhen earlier this week.
"The projects we have in this year's final contests are beyond my expectations, as all of them are very practical yet innovative ideas that meet the demands of current markets, especially in the health-care sector. We see a lot of exciting breakthroughs," said Zhou Songnian, a member of the Canadian Academy of Engineering.
The competition held preliminary contests in March in Boston, Stockholm, Sydney, Toronto, Berlin, Tel Aviv, Tokyo, Silicon Valley and London to attract talents and projects.
More than 1,400 contestants signed up for the preliminary contests this year. The competition covers electronic technologies, biological and life science, new materials, Internet and advanced manufacturing sectors.
The competition is a major event of the Conference on International Exchange of Professionals.