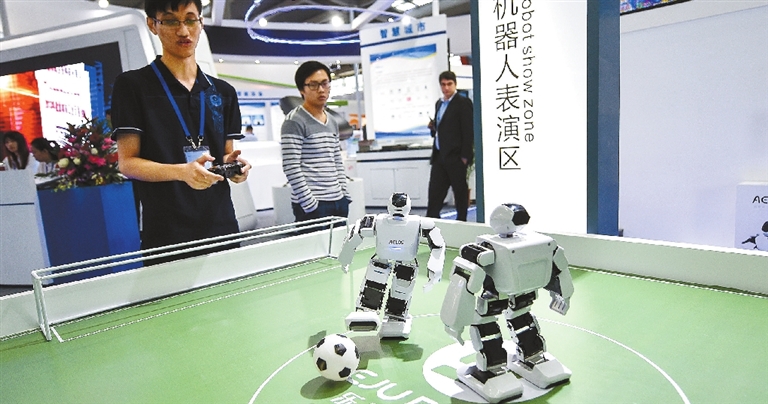 Zhang Yang
nicolezyyy@163.com
THE 19th China Hi-Tech Fair (CHTF) wrapped up at the Shenzhen Convention and Exhibition Center on Nov. 21, 2017.
The six-day fair hosted 3,533 exhibitors from more than 46 countries and regions, with over 10,000 high-tech projects on display, according to the organizing committee.
Gao Yuyue, deputy secretary general of the committee, said the 2017 fair was themed "Innovation-Driven Development & Supply Quality Upgrade" and it showcased global innovation-driven development. A number of cutting-edge products developed by local companies were on display at the fair.
Gao said the fair had also built a resource-integration platform that researchers in universities and labs can use to turn their research findings into real products that could be sold on the market.
"We set up an exhibition area for startups for the first time this year, which was utilized by 161 startups, makers and investors," he said, adding that symposiums, forums, roadshows and other activities were held to help startups and makers seek potential investors and business partners during the fair.
A large number of the top Chinese governmental departments and research institutions, including the Ministry of Commerce, Ministry of Science and Technology, and Ministry of Agriculture, as well as the Chinese Academy of Sciences and the State Intellectual Property Office, set up booths at the fair to display their upscale technologies.
Covering a total area of 120,000 square meters, 12 exhibition zones featured hi-tech products in environmental protection, biological sciences, new energy, new materials, military and civil integration, and sensor technology.
Exhibitors from 27 countries along the Belt and Road attended the fair, while an exhibition area was set up to promote technological cooperation in the Guangdong-Hong Kong-Macao Greater Bay Area.
According to Gao, this year's fair was attended by over 592,000 visitors from 102 countries and regions, many of them professionals, such as investors, purchasers, distributors and technologists. "Each exhibition booth received 242 professional visitors per day on average," he said.
The annual science and technology fair, launched in 1999, is the largest and the most influential in China.