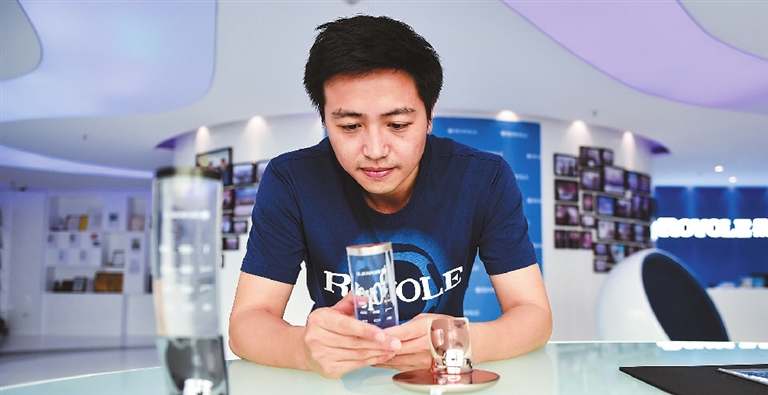 ON the list of 100 Young Global Leaders for 2017 released by the World Economic Forum last year, Liu Zihong, founder of a Shenzhen-based technology company called Royole, secured a spot.
Each year, the World Economic Forum scours the world to select 100 people under the age of 40 who have accomplished remarkable things in their field and are ready to tackle the world's most complex and pressing challenges as Young Global Leaders.
Among the 100 awardees last year, nine of them are from China, including Liu from Shenzhen.
Born in 1983, Liu received his doctorate in electronic engineering at Stanford University when he was 26.
After working at IBM in New York for three years, Liu moved to Shenzhen and decided to start his own business.
He founded Royole, a company engaged in developing and manufacturing flexible displays, flexible sensors and smart devices, in 2012.
The 35-year-old CEO said the early days were hard, but "thanks to the government's preferential policies, we could focus on research and development in the early stage and grow fast."
Two years after its founding, Royole rolled-out one of its core products — the world's thinnest bendable screens that if used on an iPad, would allow it to be folded into the size of an iPhone.
The company has filed more than 1,500 patents, and its products have been sold to more than 20 countries and regions. Valued at over US$3 billion after five rounds of financing, Royole has become one of the world's fastest-growing tech "unicorns," new tech companies valued at over US$1 billion.
Liu is confident his products, which has gone into production, will revolutionize the electronics world. It was in college that Liu Zihong started to explore thin, bendable screens.
"In 2006, when I was still a student at Stanford University, I liked to lie down on the grass and think about what I really wanted to pursue," the 35-year-old entrepreneur recalled.
"I was thinking back then that, if 70 percent of our information input is visual, then there is a need for a thinner, foldable display to take over from the usually thick, square pieces of equipment," Liu said, "I wanted to invent something that would make our lives easier and more comfortable."
(Zhang Yang)