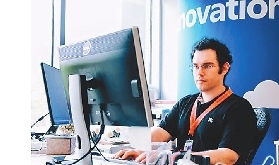 Zhang Qian
zhqcindy@163.com
FOR the cutting-edge artificial intelligence technology he developed, Matt Scott, an American who is now based in Yantian District in eastern Shenzhen, received a talent award from the district government July 5, 2017.
Scott, 35, is a native of New York. He and nine others were granted last year's Yantian Talent Award for their achievements in various fields. It was the first time that the district government has issued the award to an expat.
"It a huge honor and it [the award] means a lot to me," Scott told Shenzhen Daily. The young AI innovator gave a speech in Chinese at the awarding ceremony and was met with cheers and applause from the audience.
"I've won foreigner awards, like the top 20 foreigner entrepreneurs award, but I never was able to win a Chinese award before, because it's like there's a line between foreigners and Chinese, and it's the first time that I was able to break through that line and be considered equal," said Scott.
A few months after receiving the Yantian Talent Award, the young entrepreneur also won a few more national and global prizes.
The main technology developed by Scott and his company, known as Malong, is customized APIs (application programming interfaces) that help clients to embed artificial intelligence in their products (such as websites, applications, back-end management systems) to help serve costumers.
Scott said the technology was inspired by how human sensation works with neural networks. With this advanced technology that can be applied to multiple industries, products can be tested in order to achieve efficiency, high quality and safety.
The company is currently in the B-round financing phase.
Shenzhen has been an ideal place for Scott and his company. The American innovator said that Shenzhen being the manufacturing center of the world is one of the largest contributors to the company's success by far. Also, the government support and talent resources available at a few universities in the city are also boosting the company's growth. "We regard ourselves as an international Chinese AI company," Scott said, adding that he felt proud to introduce their company as a Chinese enterprise.