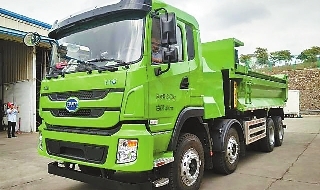 CHINA'S leading new energy automaker BYD signed a contract for 500 electric dump trucks with two companies in Shenzhen early this month.
It will be the first batch of electric dump trucks launched by BYD after the company started researching and developing new energy trucks in 2012. With a maximum gradeability of 50 percent and a capacity of 10.6 cubic meters, the model T10ZT is able to run as long as 280-plus kilometers on one charge.
The company also proposed to install stationary charging applications or mobile charging stations for the electric dump trucks, which can be fully charged in 90 minutes.
It is estimated that the exhaust gas emissions of a traditional dump truck or a concrete mixer truck could be equivalent to a total of 70 private cars. If all dump trucks and concrete mixer trucks in Shenzhen go electric, the annual amount of carbon dioxide and sulfur dioxide could potentially decrease by more than 1.6 million tons and 31,200 tons, respectively.
Xiao Haiping, director of public relations department with the BYD commercial vehicle sales division, said the company would launch electric concrete mixer trucks in the future to solve problems such as high emissions and noise caused by construction vehicles.(Xinhua)