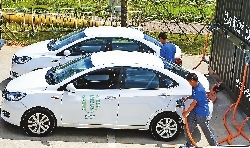 City rated healthy
SHENZHEN, along with 15 other cities in China, was rated as having a "very healthy" ecology, according to the China Ecological City Construction and Development Report (2017) jointly released by the Social Development Research Center of the Chinese Academy of Social Sciences and five other institutions. Shenzhen ranked 13th, advancing 21 places from a year before. In the other category, "Comprehensive Innovation-based Ecological City," Shenzhen ranked third.
3,191 new e-taxis
XIHU Taxi Service Co. put a total of 3,191 electricity-powered taxis into the Shenzhen market in March, becoming the first company in Shenzhen to fully replace all of its fuel-powered taxis with e-taxis.
The introduction of the 3,191 BYD e6 taxis will help reduce carbon emissions by 100,000 tons a year. Shenzhen has set a timetable to ensure all taxis in the city are electricity-powered by the end of 2020. Taxi companies can enjoy incentives and subsidies for purchasing and using e-cars. A total of 15,709 taxis, or 78 percent of all the taxis in the city, now run on electricity.
Buses go electric
ALL the double decker sightseeing buses, 135 in total running on four routes in the city, have been replaced with electricity-powered ones, the Shenzhen Municipal Public Transport Administration Bureau said in April. The sightseeing buses run on the city's throughways, such as Shennan Boulevard and Binhai Boulevard, linking tourism attractions, including Overseas Chinese Town and Dameisha. Shenzhen became the first city in China to have its public bus fleet all powered by electricity in December 2017. The city now has 16,359 electric buses in service.
Blue Sky Plan
SHENZHEN is trying to control the average concentration of PM2.5 to below 26 micrograms per cubic meter this year, according to the Blue Sky Sustainable Action Plan released at the latest Government Gazette. By the end of this year, 20,000 diesel-powered light vehicles used in logistics services will be eliminated, and 10,000 diesel-powered vehicles that are not involved in business services will be replaced by electricity-powered ones. (SD News)