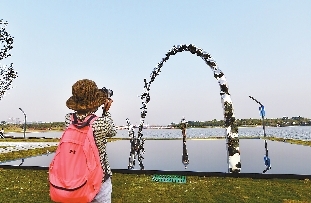 SHENZHEN will further intensify the prevention and control of air pollution this year. At present, the authority is mulling a sustainable plan for bluer skies and plans to decrease the PM2.5 concentration to 26 micrograms per cubic meter.
According to the environmental authority, the air quality in Beijing, Tianjin and Hebei Province, as well as the Yangtze River Delta, improved significantly from January to February this year, but the Pearl River Delta saw the PM2.5 concentration increase by 4.3 percent compared to the same period last year.
In particular, Shenzhen's PM2.5 concentration was 38 micrograms per cubic meter, up 8.6 percent year on year. The increase was much higher than the average level of the Pearl River Delta. Besides Dapeng New Area and Pingshan District, PM2.5 particle concentration saw an increase in all other districts and new areas.
In the first two months, total pollutant emissions in the electric power industry and other key industries in the city increased significantly. Meanwhile, dust emissions also saw a large increase with the growing amount of construction projects being initiated.
According to the monitoring analysis, dust pollution accounted for 15 percent of local sources of PM2.5. Construction dust and dust produced by vehicles accounted for more than 80 percent of the total dust emissions in the city, making them important factors restricting the improvement of air quality.
In order to meet the goal set by the municipal government, pollutant discharge from air-polluting industries needs to be reduced by more than 30 percent on average this year. The concentration of PM2.5 particles in the following months needs to be decreased by over 2.7 micrograms per cubic meter year on year.
(Zhang Yu)