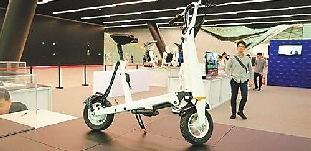 THEMED "Possibilities of Design," Shenzhen Design Week (SZDW) is back in April, aiming to continue the discussion on the relationship between design and industry, as well as design and social life.
From April 20 to 30, this year's design week hosted a series of spectacular exhibitions and forums, bringing world-class international designers and local designers together by displaying their excellent works.
For the very first time, SZDW is introducing the "honor country" concept. Italy, a country fused with fashion and history, was the guest of honor this year. To this end, SZDW hosted the Italian pavilion, which showcased the works of a legion of young and promising Italian designers.
In the theme exhibition, 15 groups of designers or teams from 10 countries presented the changes that design could possibly bring to the future of those societies through their latest practices and explorations.
The award ceremony of Shenzhen Global Design Award, which the organizers envision becoming the "Oscars" of the design world, was held April 22. HALO City, an ultra-compact moped-like vehicle characterized by a perfect balance of functional design, material selection and marketing, was the biggest winner.
Vying for the cash prize of US$200,000, a total of 1,014 pieces from 12 countries and regions had participated in this year's selection.
The other highlights included a design exhibition of the Guangdong-Hong Kong-Macao Greater Bay Area, a special Chinese design forum dedicated to the 40th anniversary of reform and opening up, and the AGI (Alliance Graphique Internationale) China Exhibition.
Launched in 2017, Shenzhen Global Design Award aims to discover and commend outstanding designers with vision, creativity and influence.
Shenzhen Design Week is a grand international design event that kicks off each spring. The first Shenzhen Design Week was held from April 21 to 28, 2017 with the theme "Design for the Future."
Shenzhen was accepted as a member of the Creative Cities Network by UNESCO on Nov. 19, 2008, and named a UNESCO City of Design, becoming the first Chinese city to win the honor. It was the sixth city in the world to earn the title. In recent years, Shenzhen designers have enhanced the communication and cooperation with foreign designers. It is a new emerging force in the international design arena. (Zhang Yu)