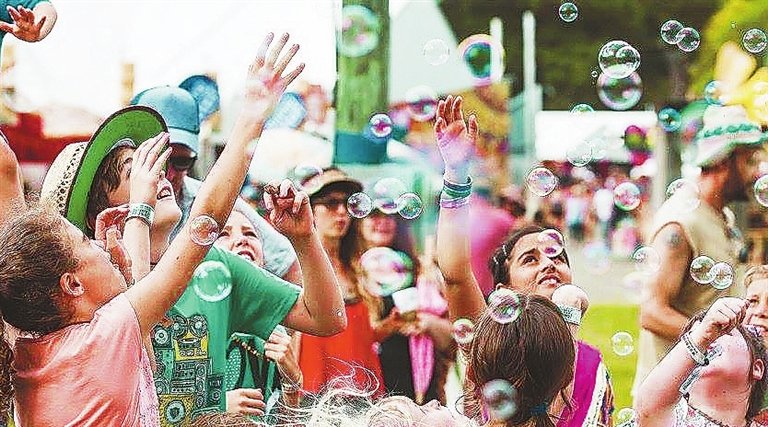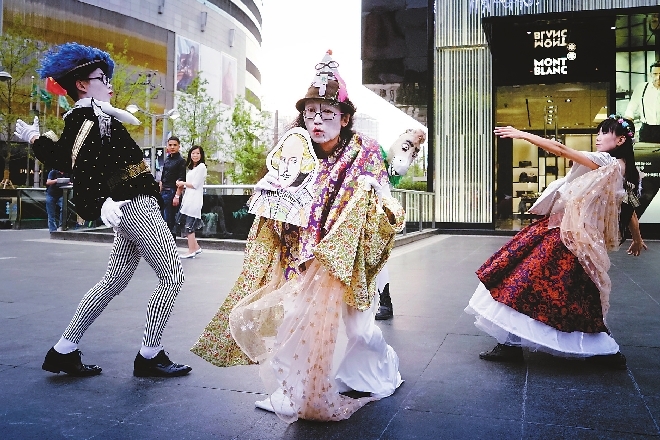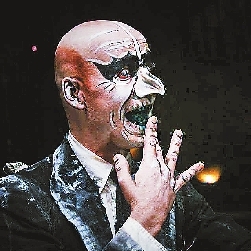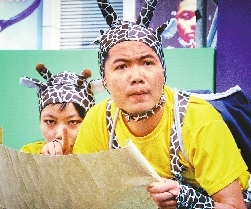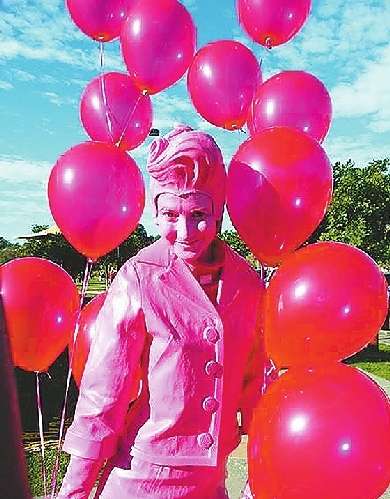 Chen Xiaochun
654789759@qq.com
ART has always gone hand in hand with nature. Bregenz city in western Austria has been keeping the tradition of holding a music festival alongside Bodensee Lake every year since 1964. Now in Huizhou, a city near Shenzhen, you can also enjoy a spectacular art show on the cool and refreshing lakeside to beat the summer heat. The 2018 Lakeside Art Festival unveiled Saturday in Daya Bay Logan City brings the art show to your doorstep, and you don't need to pay for it. The event runs until June 3.
A total of 38 artists belonging to 11 art groups from countries around the world, including Austria, the Netherlands, Spain, Argentina, Australia, Ghana, Togo and Tanzania are presenting over 100 diversified art shows ranging from music to drama, dance, parent-child events and street art.
"Art is closely linked with our daily life. We want to create a community art festival that allows people to enjoy art from the moment they open the door of their house," said Dai Yuyin, executive director of Shenzhen Fringe Art Center who organize the event sponsored by Logan Mall.
Miss Pink
The charming and adorable Miss Pink loves bringing bright colors to different occasions and enjoys taking pictures with everyone she encounters.
"Miss Pink" is performed by Chae Lindeman from Australia. Lindeman is a circus performer and instructor with 15 years' performance experience. She has performed for many events including for the royal family of Belgium.
The Gentleman
"The Gentleman" is performed by Frans Vogels from the Netherlands. Vogels is a comedy producer and actor. He is gifted in traditional silent film and slapstick comedy.
"The Gentleman" is a new show produced by Vogels. This gentleman on stilts is charming but a bit weird. He always stretches out his hands to give a warm welcome to his guests.
Bubble Pirate
"Bubble Pirate" is performed by Frans Vogels from the Netherlands and Lindeman from Australia. Their pirate costumes can create thousands of bubbles. Wherever they go, they bring the dreamy bubbles with them. Besides, their bubble swords can produce huge bubbles, sure to awaken remnants of childhood fun buried deep in your heart.
Djembe
Ibrahim, Alby, Saidi, Isaac and Aboubakar from Burundi will perform "Djembe." They have been touring the world presenting a most traditional African culture experience. A djembe is a rope-tuned skin-covered goblet drum played with bare hands, originally from West Africa. Dance is an essential part of the daily life of many Africans, and drums are always accompanying it.
Apart from this, you will also see the drama "Cup Wars" by Guangzhou actors, dumb show "Mandragora Circus" by Argentine artists, dance drama "Round Stones" by performers from Taipei, and experience "Face Painting" conducted by artists from Hong Kong.
Mirror Family
Mirror Family from Austria has performed in many different countries and regions including Dubai, Hong Kong of China, Italy and Slovakia. It has also been invited to participate in the interactive performance with tennis champion Rafael Nadal during the Barcelona Open this April.
"Mirror Family" is a fantastic show with performers covered from head to toe by hundreds of mirrors, creating an amazing reflection. The special effect produced by the body movement and the mirrors stuns audiences wherever they are seen. The show was performed May 26 and 27.
Clown Carnival
"Clown Carnival" is performed by Clown Brothers from Shanghai. The team includes four clowns who are all equipped with special skills like plate spinning, straw hat magics and balloon art. Their exquisite technique, dramatic performance and rich interaction always attract a crowd. "Clown Carnival" was staged May 26 and 27.
Flamenco
Three performers from Spain, including Antonio Carrasco, Antonia Cruz and Marian Cecilia, will present a passionate flamenco art show. Flamenco is one of the representative arts of Spain. Flamenco is a style of entertainment that combines singing, music and dance. It includes cante (singing), toque (guitar playing), baile (dance), jaleo (vocalizations), palmas (handclapping) and pitos (finger snapping). "Flamenco" was staged May 26 and 27.
The performances from June 1 to 3 will be "Round Stones," "Cup Wars," "Bubble Pirate," "Miss Pink" and "The Gentleman."
Venue: Daya Bay Logan City, Huizhou (惠州大亚湾龙光城内)