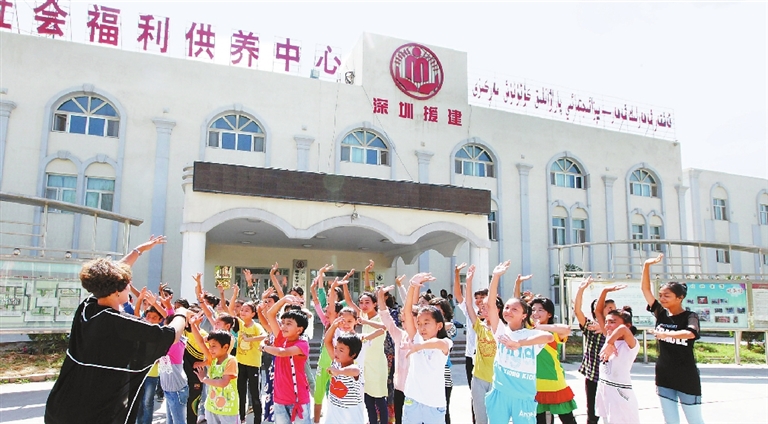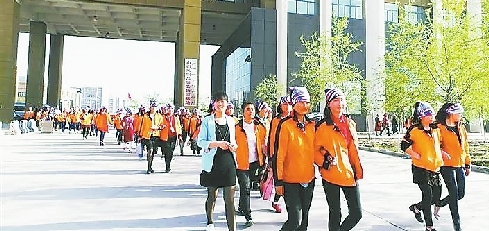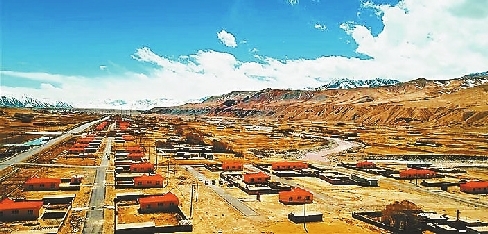 THE year 2017 marks a special year for the Shenzheners working on the poverty relief projects in the Kashgar region of Xinjiang. In the face of various difficulties including sand storms, earthquakes, and being separated from family, those involved in the poverty alleviation projects have worked hard to support Xinjiang's growth in economy, education, health and science and technology in response to the Central Government's call to help curb the widening gap between eastern and western China through cooperation between the regions.
Industry development
Shenzhen provides comprehensive employment services to its partners in Kashgar prefecture-city and the Tajik Autonomous County of Taxkorgan in the Xinjiang Uygur Autonomous Region.
By the end of 2017, Shenzhen Industry Park in Kashgar has attracted a total of 76 enterprises and provided 13,000 jobs. In 2017 alone, 36 enterprises settled in the industry park, leading to the employment of over 6,000 people.
Through platforms such as the China Hi-Tech Fair and the China (Shenzhen) International Cultural Industries Fair, Kashgar Shenzhen Industry Park has attracted a batch of Shenzhen-based labor-intensive and high-tech companies to invest and open factories there, including Marrywow International Group and Cuanghong Energy Technology Co.
Twenty-four-year-old Ayizulier Tuerwa has been working in the garment factory of Marrywow International Group in Kashgar Shenzhen Industry Park for one year now. She was promoted as a workshop leader for her fluency in Mandarin. She now earns 3,000 yuan (US$470) every month, which helps support her family's finances.
Kashgar Free Trade Zone, which lies not far away from Kashgar Shenzhen Industry Park, made great achievements in 2017. In 2017, five parties signed the cooperation agreement to build the free trade zone, which allocated a fund of 400 million yuan for its construction. Within a year, its total import and export volume reached US$50 million.
Nineteen cooperation agreements with a total investment of 830 million yuan were signed at the Kashar Shenzhen Investment & Tourism Promotion held on Nov. 14, 2017, which are expected to provide 8,610 jobs.
Living standards
Forty-five-year-old Diliwu Yakupu is a resident of Tajik Autonomous County of Taxkorgan who lives in one of the affordable houses that Shenzhen has built. Yakupu said that the living conditions have improved a lot and that he feels grateful to Shenzhen.
In 2017, more than 80 percent of Shenzhen's fund to aid Xinjiang has been used to improve people's livelihoods there. For example, 7,451 affordable apartments have been built or renovated and expanded.
Apart from the 10,000-yuan subsidy for every household in Kashgar and Tajik Autonomous County, low-income families, households enjoying the minimum living guarantee, people living in dire poverty and disabled people who have registered also receive 10,000 yuan per household.
Education and medical treatment
The Shenzhen Kashgar Education Park, which Shenzhen has built, continues upgrading all software and hardware facilities. The Shenzhen Tajik of Taxkorgan Middle School, also funded by Shenzhen, has completed construction and is now in use.
Apart from hardware construction, Shenzhen also sent three university professors to help with the curriculum development of Kashgar University.
In terms of medical assistance, Shenzhen has provided 10 million yuan to build support projects of the East City Branch of Kashgar People's Hospital in 2017. Shenzhen also initiated a strategic cooperation alliance that gathers health and medical personnel in Guangdong, Jiangsu and Shenzhen to dispatch medical aids to Xinjiang.
Tourism and cultural industry
Kashgar is endowed with abundant natural beauty, deep culture and history, and unique ethnic customs, which provides rich tourism resources. However, the tourism industry is not well-developed. Shenzhen put into full play its know-how in the culture and tourism industry to facilitate the local tourism industry. It further optimized tourist attractions such as the Muztagh Ata Glacier Park and Kashgar Old City.
Additionally, the aid and assistance from Shenzhen also included areas such as social services and targeted poverty alleviation projects. (Chen Xiaochun)