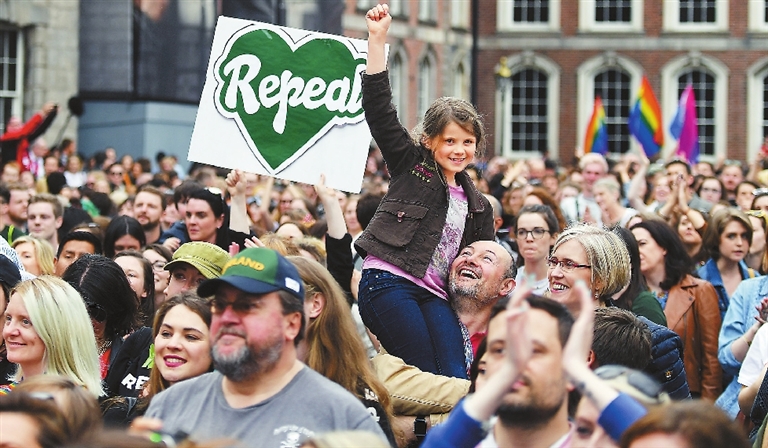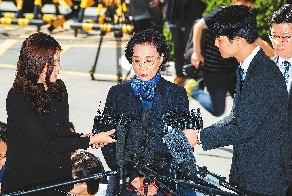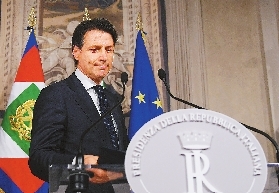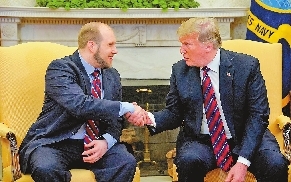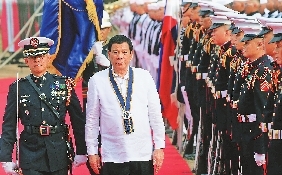 Irish people vote to repeal abortion ban
People celebrate the result of the referendum* on liberalizing abortion law in Dublin, Ireland, on Saturday. According to the final results of the referendum announced by returning officer Bary Ryan at Dublin Castle, 66.4 percent of the voters cast their Yes ballots for repealing* the Eigth Amendment with the No vote rate standing at 33.6 percent.SD-Agencies
Wife of Korean Air chief summoned
South Korean police on Monday summoned the wife of Korean Air chairman Cho Yang-ho to question her about allegations she abused and assaulted employees.
Lee Myung-hee has been accused of physically or verbally abusing more than 10 former and current employees of Cho's Hanjin conglomerate*, the parent of Korean Air. Lee told reporters she felt "sorry for causing troubles" after arriving at a Seoul police agency for questioning.
The Cho family has been under mounting public criticism after company employees alleged they were subjected to mistreatment and tantrums*.
Italy plunges into political crisis after talks collapse
Italy was mired* in fresh political chaos on Sunday after the populist parties' bid to take power collapsed with the president set to appoint a pro-austerity economist to lead a technocrat* government ahead of new elections.
President Sergio Mattarella vetoed the nomination of fierce eurosceptic* Paolo Savona as economy minister, enraging the anti-establishment Five Star Movement and far-right League and prompting their prime minister-elect to step aside.
Venezuela frees American couple facing charges
Venezuelan Minister of Communications Jorge Rodriguez announced on Saturday that the country's judiciary had freed American citizen Joshua Holt and his wife, who had been arrested and charged with espionage* and illegally carrying weapons.
The minister said that this move was part of the efforts by President Nicolas Maduro to show he was ready to hold dialogues to ensure peace and stability in the country.
Duterte mulls running for mayor again
Philippine President Rodrigo Duterte is planning to run for mayor again when his six-year presidential term ends in 2022.
Duterte, 73, was the mayor of his home city Davao in the southern Philippines for 23 years before he ran for president in 2016.
Two years into office, Duterte is not yet thinking of retirement. At an inauguration of a bridge in Davao City last week, Duterte wondered aloud about the possibility of serving his home city as mayor.
US delegation in DPRK for summit
U.S. President Donald Trump said on Sunday that a U.S. diplomatic delegation had arrived in the Democratic People's Republic of Korea (DPRK) to prepare for a much-anticipated summit between Pyongyang and Washington.
"Our United States team has arrived in North Korea to make arrangements for the Summit between Kim Jong Un and myself," Trump tweeted.(SD-Agencies)