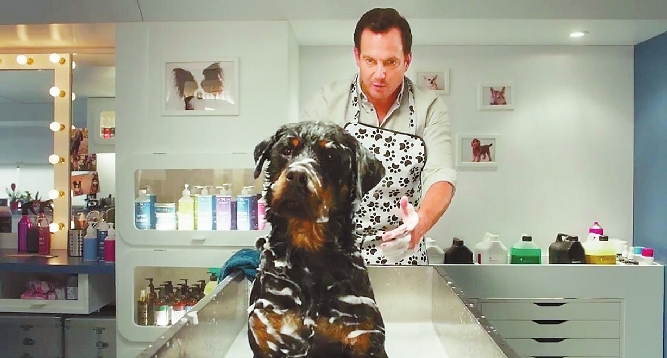 《汪牌特工》
Will Arnett and a Rottweiler voiced by rapper-actor Ludacris team up in this family-friendly comedy.
Ludacris' Max is a lone wolf of an NYPD police dog who butts heads* with Arnett's federal agent Frank Mosley while attempting to take down an animal smuggling ring that has just snatched a cute baby panda.
When Max finds out the bad guys are planning to sell Lingli, the baby panda, at the upcoming Canini Invitational dog show in Las Vegas, he's forced to go undercover as an entrant, accompanied by Mosley, posing as his trainer.
Upon his arrival, Max receives some valuable tutelage* from the embittered Philippe (Stanley Tucci), a former champion of a pompous* French papillion*, before meeting the competition*, including Daisy (Jordin Sparks), a self-possessed Australian Shepherd, and Karma (Shaquille O'Neal), a Zen-centered, dreadlocked Komondor.
Also in the running is Dante (Alan Cumming), a full-of-himself Yorkshire terrier*, Sprinkles (Gabriel "Fluffy" Iglesias), an excitable pug, and Persephone (RuPaul), a colorful something-or-other.
They all go through their predictable* paces, but director Raja Gosnell, who went to the dogs years ago directing a pair of "Scooby-Doo" features as well as "Beverly Hills Chihuahua," choreographs it all with a breezy efficiency.
But it's ultimately the characterizations that give the production a paw up on the competition, and the vocal contributions of a terrific Ludacris, an entertaining Tucci and Cumming, in particular, keep things amusing.
Joining the game is Natasha Lyonne, taking the gig* in between shooting episodes of "Orange Is the New Black," in the role of Mattie, an FBI canine consultant who helps show Mosley the competitive ropes*.
The film contains many show dogs that are perfectly groomed and great to look at.
(SD-Agencies)