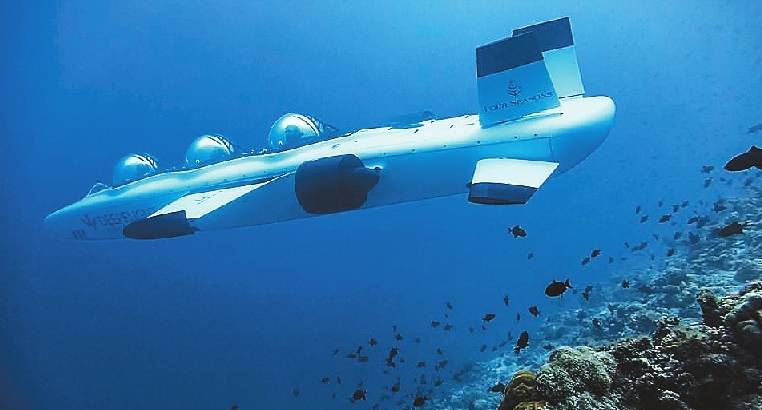 全球首艘三人式深海探险潜水艇
The Four Seasons Resort Maldives at Landaa Giraavaru has recently launched a submarine tour of the local reefs for its guests.
Those staying at the uber-luxury hideaway can climb aboard a Super Falcon 3S, built by DeepFlight, and descend to 36.5 meters to take in at the local sea life.
The submarine can take up to two guests at a time down into the waters around Landaa Giraavaru, which form part of a UNESCO Biosphere Reserve*.
It allows guests to skim over coral formations, fly through shoals of brightly colored fish and encounter sharks, turtles and dolphins — all without getting wet.
The pilot narrates each dive with a real-time commentary, educating guests about the wonders of the underwater ecosystem.
But the excursions* don't come cheap, with a trip for two people costing US$1,500.
The Super Falcon 3S sub is described as an environmentally friendly, battery-operated submersible that offers unparalleled underwater "flying" from the safety, comfort and style of a personal pressurized* and air-conditioned cockpit*, with individual viewing domes.
Once submerged, the domes provide a 360-degree view of the underwater world.
The Super Falcon 3S has also been designed with the environment in mind: its electric and acoustic* emissions have been minimized so as not to disturb marine life, and it never lands on the seabed or reefs.
Four Seasons regional vice president Armando Kraenzlin said: "These submarine excursions redefine marine exploration and bridge the gap between the world we see above the waves and the one that exists below. We couldn't be prouder to be the first resort in the world to launch the DeepFlight Super Falcon 3S."
(SD-Agencies)