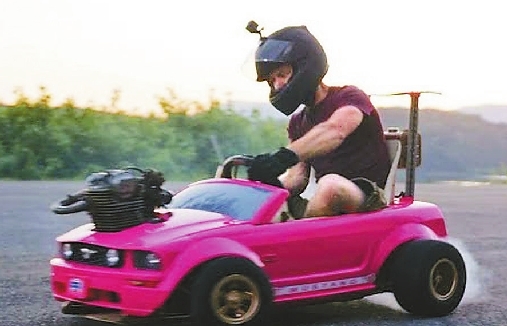 汽车爱好者改装福特野马童车
A group of savvy* car enthusiasts fashioned a tricked out Barbie Ford Mustang that can go from zero to 96 kilometers per hour in just six seconds and reach a max speed of 112 kilometers per hour. By comparison, your average Barbie car can only go up to 4 kilometers per hour.
Grind Hard Plumbing Co., a YouTube channel that builds crazy contraptions* and cars, posted a few videos of the souped-up* Power Wheels in action. In one harrowing scene, the driver, who is named Ethan, is doing donuts with the contraption before it spins out of control and almost goes over a cliff.
"There's no traction for the steering, so Ethan's understeering like crazy," one of the onlookers said in the video. "It's pretty much uncontrollable."
Thankfully, the car and its driver's descent are stopped short — with just a few inches between the edge of the cliff and a steep drop onto some train tracks and, beyond that, a lake.
Instead of rewiring the Power Wheels' original parts, creator Edwin Olding ended up dropping the car's outer shell onto a go-kart that he found on Craigslist.
The vehicle includes some other big upgrades like a new piston and a performance camshaft*. It also has about 24 horsepower, according to the Drive. It's controlled with a clutch* pull handle on the steering wheel. Olding noted in the video that first gear was difficult to use at times, perhaps due to a lack of fuel.
Grind Hard published a video of the building process on YouTube.(SD-Agencies)