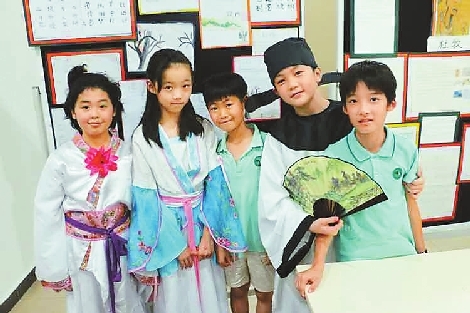 深外国际部举办第二届中国传统文化周活动
From May 7 to 11, Grade 4 students at Shenzhen Foreign Languages School participated in the wonderful experience of Chinese Culture Week through a series of fun activities, such as a "Book of Songs" presentation, Tang poetry exhibition and Chinese poetry competition, hosted by the Chinese Department of the school.
During the weeklong event, the students not only had fun accessing authentic traditional Chinese clothes and instruments, but also gained a deep understanding of Chinese ancient poetry, which ignited their enthusiasm for learning and inquiring further into Chinese language and culture.
On May 7, Zi Zhang from Shenzhen Poetry and Liturgy Association was invited to SWIS. He gave a presentation to all Grade 4 students about "Book of Songs," the oldest existing collection of Chinese poetry. As Mother's Day was to be celebrated that weekend, Zi presented and shared a poem which praised motherhood.
In a previous unit, students were divided into small groups and explored selected Tang Dynasty (618-907) poets together. They were asked to choose one Tang poet and a minimum of three different pieces of his poems to examine. Students inquired into the selected poet's life and created a timeline of background knowledge and artistic conceptions of his poems.
On May 10, students dressed up and showcased their learning with the greater SWIS community through a range of multimedia including posters, book creator, weebly sites, podcasting, calligraphy and painting.
(Yang Pan)