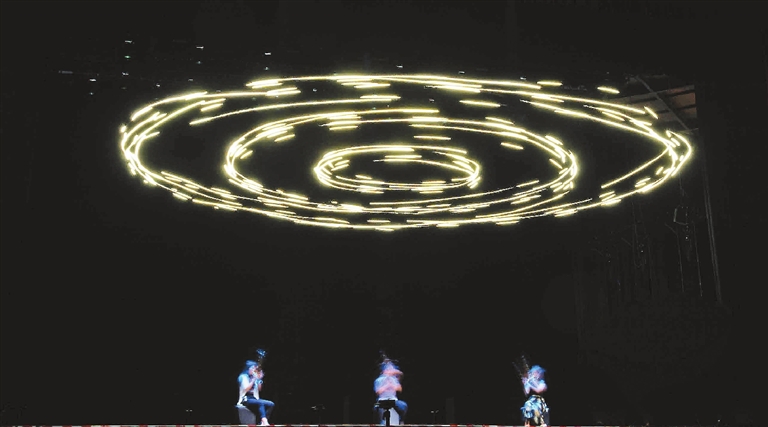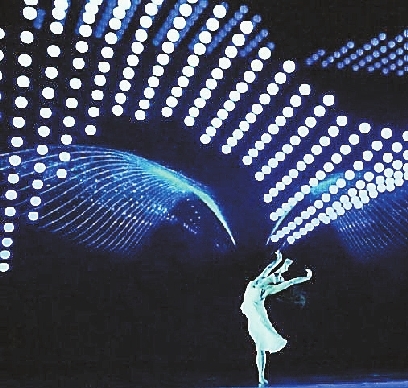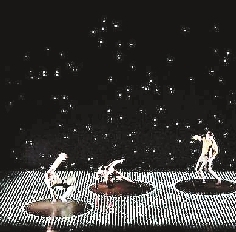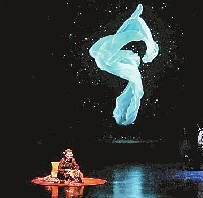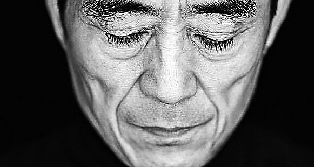 IT has been more than 30 years since Zhang Yimou's directorial debut, "Red Sorghum," won him international acclaim, including a Golden Bear for Best Picture at the 38th Berlin International Film Festival in 1988. Since then, he has enjoyed great success with global blockbusters such as "House of Flying Daggers" and "The Great Wall" and, more recently, he has just returned from the United States, where Boston University bestowed upon him an honorary Doctorate of Humane Letters during the venerable institution's 145th Commencement on May 20.
But, when the now-renowned Chinese filmmaker recalls that big break back in 1988, what makes him proud is that the movie was met with almost unanimous praise, especially from the audiences.
"The feedback of the audience is crucial," says the 66-year-old Zhang in Beijing. "I want to communicate with them through my work."
Last June, Zhang was able to enjoy a much closer interaction with his audience when he returned to the world of live performance, premiering his pioneering stage production, "2047 Apologue," a production he calls a "conceptual show," at the National Center for the Performing Arts.
The show combines the latest technology, such as laser lighting and robots, with traditional Chinese folk artists, including Qiu Jirong, a crossover Peking Opera artist and musician, Wu Tong, who plays the sheng (a traditional Chinese wind instrument).
Zhang took the production on tour in March this year, visiting three Chinese cities: Shanghai, Hangzhou and Guangzhou, where Zhang was happy to discover that "the audience have shown their interest and passion for the show, just like they did with my first movie."
The show was also staged at the Edinburgh Fringe Festival in Scotland last year.
"Their feedback also made me think," Zhang reveals. "If the audience enjoy fresh and creative ideas on stage, they are not only entertained but also inspired. "It started a conversation between the audience and me, which was exciting."
A year later and Zhang is ready to launch the sequel to the show, which he's calling "the second season" of "2047 Apologue," and it will debut at the NCPA on June 12.
Like the first production, the show continues the director's reflection on the relationship between people and technology. Instead of telling stories through the show, Zhang creates seven pieces, which are performed by artists from seven countries, including the United States, Germany, the United Kingdom and China.
In one piece, award-winning contemporary dancer, Li Yu, performs to the drum beats created by percussionists from U-Theater in Taiwan alongside the sounds of khoomei (a traditional throat-singing technique of Mongolia) while robotic arms mimic his movements. The shadows of the robotic arms are projected on a big screen on the back of the stage, which change from following Li's moves to resisting, even threatening him.
"Technology changes our lives. But when I think of the relationship between technology and humans, I don't just see the positive side," Zhang laments. "I have three children, and like many young people, they are always looking at their phones. It made me think about the influence that technology has over us. It's a double-edged sword."
Referring to the production, he adds, "I don't simply showcase the latest technology and ancient Chinese art forms. I am trying to find a point to merge them together in a beautiful and inspiring way."
According to He Lulu, assistant director of both the first and second seasons of "2047 Apologue," the team has traveled the world to find the right artists for season two.
In the original show, they invited 78-year-old Wu Shuxiang from Anhua, in Southwest China's Guizhou province, to display her weaving skills with her 200-year-old loom. Wu, from the Miao ethnic group, learned the skill from her mother and she had never performed onstage before.
In the new production, the team will bring three retired loggers from Fujian Province, Lin Longyou, Lin Beixiang and Lin Yongzhao, all of whom are more than 75, to perform ancient songs from their hometown, some of which date back nearly 300 years.
More than 20 singers, aged between 5 and 69 years old, who form the Poya Songbook Chorus, from Poya Village in Yunnan Province, Southwest China, will also perform. "Poya Songbook" is an ancient collection of folk songs written on a piece of hand-woven cloth in hieroglyphic symbols. It originated from Poya Village in Yunnan. It is the only discovered record in the world which documents songs with hieroglyphics. In 2011, the "Poya Songbook" was added to the list of National Intangible Cultural Heritage.
International performers will include a Hungarian shadow theater group Attraction, Turkish design duo Ezratuba and Tetro and LED installation artists from France.
Last year, Andy Flessas (aka Andy Robot), a Las Vegas-based roboticist and computer animator who worked with NASA's Jet Propulsion Laboratory and also with Lady Gaga, performed in the first season of "2047 Apologue." Now, Flessas will bring more of his mechanized performers to the stage for season 2 of "2047 Apologue."
Besides films, Zhang has been pushing boundaries during the past 30 years. In 1998, he directed a version of Puccini's opera "Turandot," and he was also the director of the opening and closing ceremonies of the 2008 Beijing Olympic Games. (China Daily)