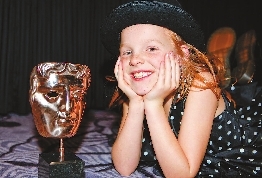 SHE began voicing children's animation "Peppa Pig" at the tender age of 5. And now, voice-over artist Harley Bird, 16, is reportedly on track to be a millionaire by the time she turns 21 as it's claimed the teen is already raking in £1,000 (US$1,331) an hour.
According to The Daily Star, Bird's job depicting the titular farm animal sees her easily earn in excess of £12,000 per week, and her riches are only set to heighten as the years go on. A source told the publication that "Harley is the most successful teenage voiceover artist in Britain right now. She's also difficult to be replaced as she's mature enough to be a great actress but still has the distinctive voice families around the world know as Peppa."
Bird spoke about her time voicing the anthropomorphic pig during an appearance on TV early in May, where she admitted that producers would read her lines for her to mimic when she first started out as a tot.
At age 5, she gained the role of Peppa in the series. She became the youngest British Academy Film Award winner ever as she won the Performer award at the 2011 British Academy Children's Awards for her voice-artist work as Peppa Pig. (SD-Agencies)