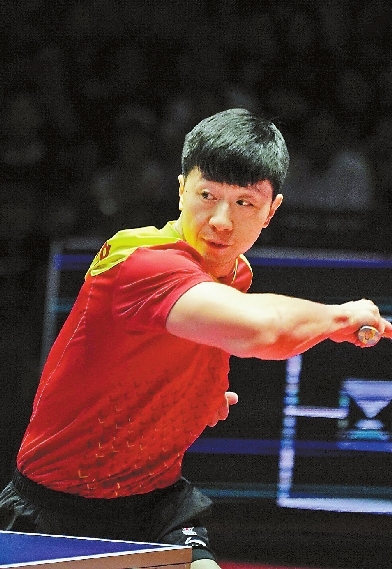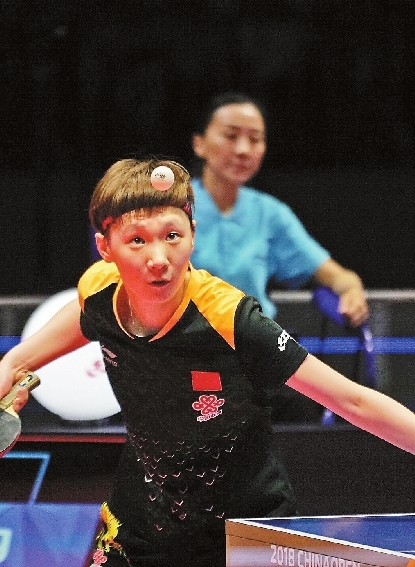 Doria Nan
there_sun@163.com
CHINESE player Ma Long beat compatriot Fan Zhendong 4-1 to win the ITTF 2018 World Tour table tennis China Open men's singles final at Bao'an Stadium in Shenzhen last night.
Notably, it is the 14th occasion that the two have met on the international scene. Their head-to-head record is 12-1 in favor of Ma. Fan defeated Ma at the ITTF 2016 World Tour China Open.
In the women's final yesterday, Chinese player Ding Ning, the current world and Olympic Champion and a 13-time women's singles gold medalist on the ITTF World Tour, lost to her national teammate Wang Manyu 4-3 in a tight match.
"I'm really tired during the match, and it is the conviction that makes me get the trophy," Wang said.
On Saturday, Ding ended Japanese dark horse Saki Shibata's campaign in the semifinal.
Also, Ding Ning and Zhu Yuling met South Korea's Jeon Ji-hee and Yang Ha-eun in the women's doubles final, and the two Chinese players took the title with a 3-1 win.
Romania's Ovidiu Ionescu and Spain's Alvaro Robles faced Fan Zhendong and Lin Gaoyuan in the men's doubles final.
The Chinese duo won 3-0.
It was local hero Lin Gaoyuan's second gold medal in the event.
Chinese pair Lin Gaoyuan and Chen Xingtong won the first ever mixed doubles event in the ITTF World Tour on Saturday.
Lin and Chen took down Japanese pair Morizono Masataka and Ito Mima in the final of mixed doubles 3-1.
Lin said he was glad to win his second gold medal here.
"I was so lucky in my hometown, because my supporters here gave me encouragement."
"I want to say 'thank you' to my parents. My mother got up early these days to prepare soup for me, because Guangdong soup takes a long time to make," said Lin.
Lin hails from Bao'an District in Shenzhen and started playing table tennis at four years old, before joining the Chinese national table tennis team when he was 14.
Former world No. 1 Zhang Jike suffered another first-round exit here Friday, losing in straight sets to Japanese teenager Tomokazu Harimoto in less than 30 minutes
The 30-year-old Grand Slam paddler, multi-time men's singles winner in Olympic Games, world championships and World Cups from 2011 to 2014, just made his comeback to international competitions recently in Hong Kong, China.
The six-day event, which ran from Tuesday to yesterday, featured over 200 competitors from 37 countries and regions competing for the US$346,000 tournament prize.
In addition to the action on the tables, various cultural and entertainment activities, including an exhibition of table tennis history and culture, a week-long carnival, and a "ping-pong on campus" program, were held to promote this event in Shenzhen.