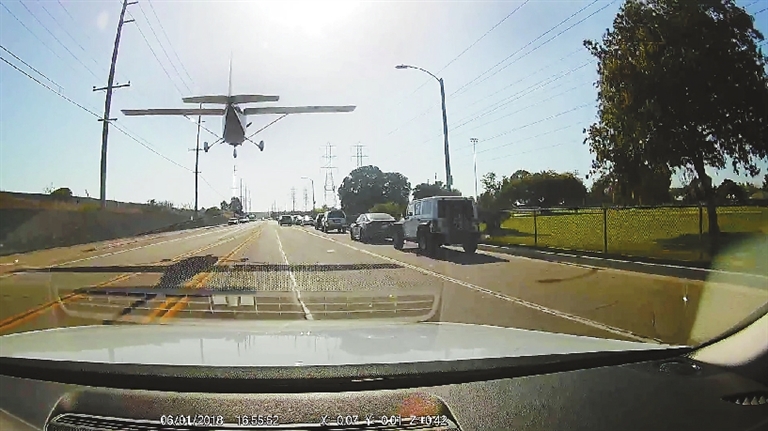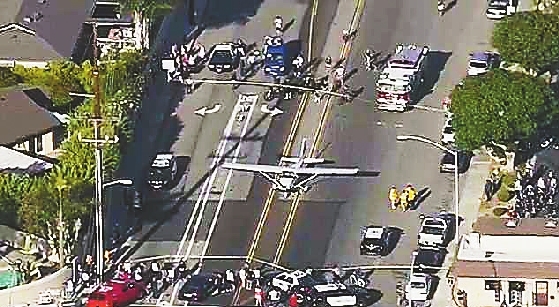 A SMALL plane swooped over the tops of cars before making the "perfect" emergency landing on a California street Friday afternoon.
Incredibly, nobody was hurt as the pilot used all of her skills to get the light aircraft on the ground safely in Orange County.
The plane landed on a road in Huntington Beach with the pilot narrowly managing to avoid street signs, lamp posts, telephone poles and even other cars which pulled over to the side.
She did a "fantastic job," a Huntington Beach police spokeswoman said.
John Wayne Airport tweeted that the Cessna Skyhawk that heading to the airport lost power, but was able to safely land on a road. There was no impact to airport operations.
Dashcam footage captured the amazing moments as the plane raced down the road with the undercarriage of the aircraft just barely clearing the tops of cars. Others pulled over to the side of the street to avoid a collision.
Officers on the scene said the pilot was extremely calm and unfazed by what had happened.
They also said "clearly this could have been much worse," with neighbors calling her one of the luckiest people alive.
Witnesses took photos of the plane settled in the middle of the road as they drove by or stopped to watch authorities look over the scene.
"This could have been really, really bad," witness Tory Johnson said to ABC. "She flew underneath all those wires, which is a pretty big deal. Those wires hang down pretty low and could have killed the power throughout this entire block. It was pretty gnarly."
The plane was eventually moved and will now be taken apart for assessment as officials try to figure out what happened.
As the FAA investigates they have not released the pilot's name, but both they and the NTSB are expected to respond to questions about the incident in due course.  (SD-Agencies)