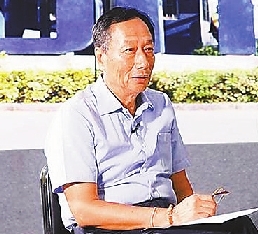 TERRY GOU, founder and president of Foxconn Technology Group, believes Shenzhen will become the "Silicon Valley" of not only China, but the world, the Shenzhen Special Zone Daily reported yesterday, ahead of the 30th anniversary of Foxconn's investment in Shenzhen tomorrow.
Gou said Foxconn has benefited from both China's reform and opening-up policy and the city's innovative and tolerant business environment.
In October 1988, Gou, keen to capture business opportunities, set up a factory in Shenzhen to engage in material processing. "The factory was rented, and the equipment, materials and technologies were all from Taiwan. What Foxconn did was processing materials," he said.
In 1996, Foxconn bought a parcel of land from the Shenzhen government and built a new factory in Longhua District. Since then, the company has grown into a global giant of precision manufacturing and advanced manufacturing.
He admitted that he has deep feelings for the city. "I like Shenzhen, because it is a special economic zone of reform and opening up and has made a series of contributions. I'm glad that I took part in the city's development," he said.
"Shenzhen is a migrant city and tolerant of different cultures. No matter what dialect you speak, you can have a sense of belonging here," he said, adding that the city is vigorous and inclusive.
When he first came to Shenzhen, he felt that it was a good place to experiment. Therefore, he was willing to bring the best technology and talents to Shenzhen to help develop its industry and economy. "At the beginning of the reform and opening up, Shenzhen was short on capital and technology, but the country and the province were willing to attract foreign investment," said Gou.
According to him, Shenzhen's openness, inclusiveness and good business environment are the three important reasons why he chose the city and why Foxconn continues to expand. "Foxconn can be said to have grown with Shenzhen while making its share of contributions to the city's economy and social development."
Gou also thinks highly of Shenzhen's respect for overseas businessmen.
Foxconn is currently investing and building more than 40 production bases on the mainland. By the end of 2017, it had applied for 54,600 patents on the mainland, of which 29,900 have been approved. It has also applied for 146,200 patents around the world, of which 83,600 have been approved.
"As an international company, Foxconn has developed along with Shenzhen for three decades. We will continue to stride forward together in the future," said Gou.(Zhang Yu)