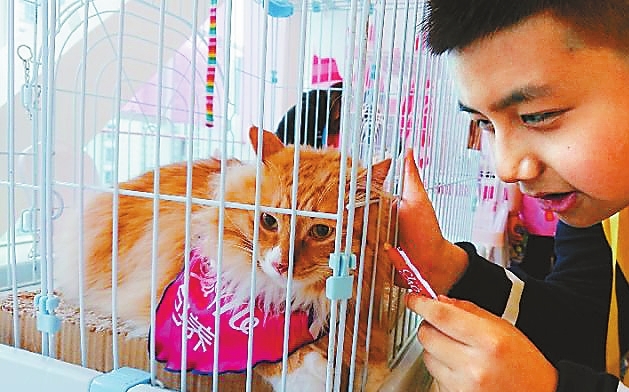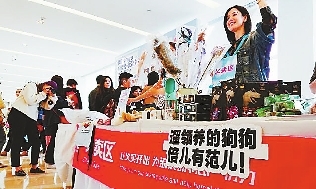 OWNING a pet or a few of them has become an increasingly popular lifestyle choice in China, as well as a driving force for consumption.
Yet behind the pet boom, problems — such as abuse, abandonment, and quality of pet supplies — have also emerged.
The best solution is regulation to allow people and animals to live in harmony, said He Hairen, researcher in legal studies with the Chinese Academy of Social Sciences (CASS).
Pet boom in China
An event gathering rescued stray cats and dogs, animal lovers, vets, pet supplies businesses and celebrities was held in Beijing on Saturday in celebration of the 58th Beijing Pet Adoption Day.
"We provide online and offline platforms where healthy, friendly and well-trained rescues are introduced to families who are ready to keep a pet," said Yang Yang, co-founder and chief executive of the nonprofit "Adoption Day" charity.
Founded in 2011, the platform has expanded into more than 40 major to medium-sized cities.
In Beijing, more than 1 million households own at least one pet dog, based on the number of pet registration licenses, according to the Capital Animal Welfare Association (CAWA).
An equal number of — if not more — families are likely to have cats, since no license is required for them, said Qin Xiaona, president of the association.
For those who don't have pets, "cloud cat-sniffing" has been gaining popularity throughout China's social networks.
Wang Zhengjun, a Ph.D. candidate at Northeastern University, is known as a "petless pet blogger" on Sina Weibo. He creates funny memes and stories about other pet bloggers' cats.
"I love cats, but I don't have any yet because I don't have a job or own an apartment, which means I am not capable of offering a comfortable life for an animal," he said.
"I 'sniff' other people's adorable cats online," he explained. "Cloud cat-sniffing is a great stress-release method and a kind of community."
"I collect items with cat images on them, watch movies and documentaries on cats, and read books on how to be a good carer for cats," he said.
On Taobao.com, one of the country's major e-commerce marketplaces operated by Alibaba Group, 8.4 billion yuan (US$1.3 billion) was spent on merchandise related to cats in 2017.
By coincidence or by design, the e-commerce group's other major B2C platform Tmall.com is represented by a cartoon black cat.
On the other hand, with 2018 being the year of the dog in the Chinese zodiac, images of canines have appeared on all kinds of product designs.
'Nekonomics' in China
For businesses, the growing love that Chinese are expressing towards their furry friends is undoubtedly a huge opportunity to explore, especially given the vast market scale.
"It is certain that pet-related industries will continue to soar as our economy grows," said Wang Jiayi, brand manager and cat behaviorist with Naja Veterinary Clinics.
"Food, toys, medical care, furniture, photography, electronic devices such as GPS collars ... the potential is infinite," she said.
Wang, who is also founder of Catman Club Ltd., a company that provides cultural and social services for cat lovers in China, said that more Chinese are becoming pet owners.
"Nekonomics" is a term invented by Japanese scholars to describe the economic effect when cat-related goods, cultural content and services sell well, and push the overall economy to grow.
Kanshiro Miyamoto, emeritus professor of Kansai University, estimated that this phenomenon created 2.16 trillion yen (US$19.7 billion) in 2015, and it would become larger than the economic effect of the 2020 Tokyo Olympic Games.
In a recent report, the Japanese Nikkei newspaper suggested that China's cat food market will exceed Japan in 2020 by reaching US$1.8 billion per year.
A 2017 study by a U.S. market research institute said that China's pet electronic device market value had reached US$1 billion by end of 2016, predicting that it would expand to over one-fifth of the global market share in 24 years.
"That sounds about right," said Rabbit-eating Carrot, a Weibo blogger whose two cats — named Threeless and Fourless — have over 1.5 million followers on the Twitter-like social network.
"My monthly expenses on my cats are around 1,000 yuan, which covers their food, treats and litter," she said, adding that she expects the nekonomics to have a greater effect in China.
She said, "I am happy to see that Chinese society is becoming more aware of the feline charisma."
"In China, the level of society increases alongside people's growing demand for consumption quality, pets have been consolidating their position as family members," said Wu Tong, founder of Q Planet, a company that provides funeral services for pets.
In some cases, such as empty-nest elderly or urban bachelors, pets are often the only family they have, she added.
Wu started the company in 2014. "As my dog grew older, I was living in anguish, worrying that she might leave me one day, and I would think about what I should do when it happens," she said.
Q Planet creates personalized memorials to help people cope with their bereavement and grief, as Wu learns to deal with her fear of loss.
There are more than 80 pet funeral homes in China, mainly in big cities.
"Pet cremation is a necessity in our society. More people will choose to send off their pets in a way that is more responsible for the environment and for the departed," she said.
Regulations needed
In the same year as Adoption Day was founded in Beijing, Chris Lau, an upscale jewelry designer and brand manager, founded "TA Shanghai" in the eastern metropolis, encouraging people to help animals in distress and to give them a safe and loving home.
"The origin of stray animals is abandonment, because these domestic animals don't come out of nowhere," he said, adding that some of the city's lawmakers have suggested legislation against cruelty to animals including irresponsible ownership.
While there is no law to prevent or forbid commercial activities that may be harmful to the well-being of animals, Wang urges pet owners to learn about their animal companions' biological and psychological needs and to place animal welfare above selfish entertainment.
Another major issue is the pet breeding frenzy, which has gotten out of hand and become a main reason for the sharp increase in stray animals, said Qin Xiaona with the CAWA.
"Irresponsible breeders create lives and sell them for profit as goods, despite the fact that so-called 'purebreds' often bear genetic defects and health risks due to inbreeding and horrible sanitary conditions. It's unethical," she said.
The breeding of purebred animals imposes similar genetic restrictions to those that occur in wild species that have been reduced to tiny breeding numbers after natural and man-made disasters, according to Nick Jeffery, professor of Veterinary Clinical Studies at University of Cambridge.
He quoted studies that evidenced the risks of selective breeding in the foreword to "Breed Predispositions to Disease in Dogs and Cats" by Alex Gough and Alison Thomas, a book that lists known breed-related health risks.
"Based on 20 years of practice as a veterinarian, I find native or mix-breed cats in general healthier, stronger, and more sociable," said Wang Hui, director and chief veterinarian of Naja Veterinary Clinics, a nationwide franchise of upscale pet hospitals.
"To my knowledge there are no regulations in the breeding sector so far and health risks are almost inevitable in pedigree pets," he said.
A legal framework is needed urgently to regulate the industries and guide social conduct towards animal care and ending cruelty towards animals, said He from the CASS.
(Xinhua)