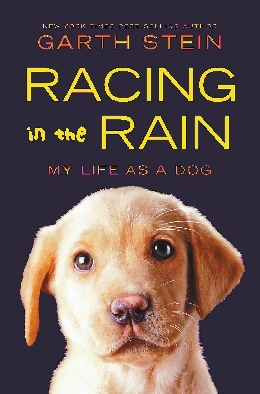 《我在雨中等你》
If you've ever wondered what your dog is thinking, American author and film producer Garth Stein's novel offers an answer.
"The Art of Racing in the Rain" is a 2008 novel by Stein — told from a dog's point of view. It was a New York Times best seller for 156 weeks.
The novel follows the story of Denny Swift, a race car driver and customer representative in a Seattle BMW dealership*, and his dog Enzo, who believes in the Mongolian legend that a dog who is prepared will be reincarnated* in his next life as a human.
At the beginning of the book, Enzo is dying, so he spends time reflecting upon his past.
His reminiscences* begin with the day Denny chose him out of a heap of puppies, taking him from a country farm to an apartment in Seattle.
Swift meets and marries Eve, has a daughter, Zoe, and risks his savings and his life to make it on the professional racing circuit.
Enzo spends most of his days watching and learning from television, gleaning what he can about his owner's greatest passion, race car driving — and relating it to life.
When Denny hits an extended rough patch*, Enzo remains his most steadfast silent supporter. Enzo is a reliable companion and a likable enough narrator, though the string of Denny's bad luck stories strains believability.
The book is available at online bookstores like jd.com.(SD-Agencies)