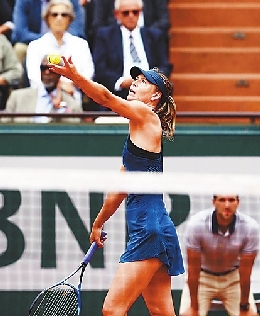 MARIA SHARAPOVA'S first French Open in three years came to a muted conclusion Wednesday. She made decent inroads in the tournament that turned her away last year but clearly viewed it as incremental progress after a flat, straight-sets loss to Spain's ascendant Garbine Muguruza.
Unranked after serving a 15-month doping suspension that ended in the spring of 2017, Sharapova received much-debated wild cards to several WTA events but not Roland Garros, her first major since returning and the only venue where she has won two Grand Slam championships.
She played her way back into the top 50 earlier this year and earned a seed (28) here in a major for the first time since her forced hiatus. She looked as if she belonged in the second week, which ended with rising commotion around a scheduled clash against Serena Williams.
Williams withdrew shortly before the match with a pectoral muscle injury. The abrupt walkover leapfrogged Sharapova onto center court against Muguruza, who became a double Grand Slam event champion during Sharapova's absence.
Thoroughly and clinically outplayed by Muguruza in every respect, Sharapova looked uncomfortable and off-balance for most of her brief stint on court.(SD-Agencies)